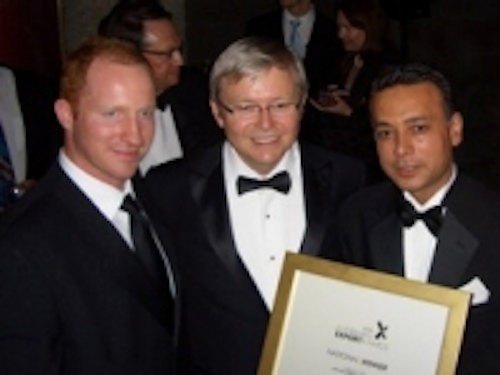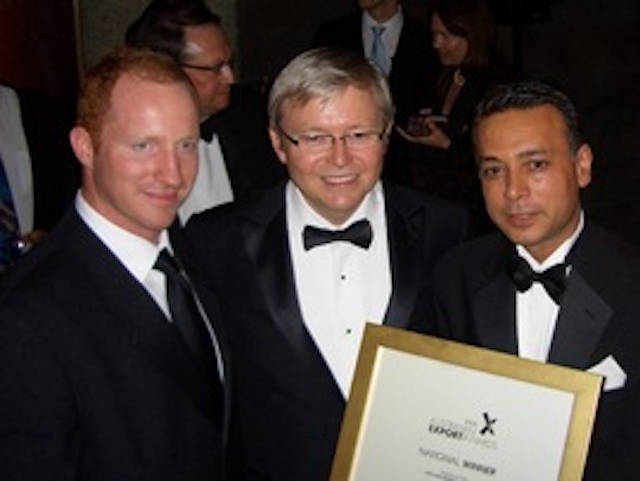 Date Announced: 13 Jan 2009
Laservision Recognised for Outstanding Achievement in International Business !
In a star-studded event held on the 5th of December 2008 in the National Gallery of Victoria, Laservision was awarded the National Australian Export Award in the Arts & Entertainment category.
Australia's Prime Minister, The Hon Kevin Rudd MP and the Minister for Trade, The Hon Simon Crean MP, were on hand to present this prestigious award to Laservision's Marketing Manager, Shannon Brooks.
"The Australian Export Awards recognise the outstanding achievements of individual Australian enterprises ... and shows how Australian innovation, determination and effort can meet the challenges of global markets," said the Hon Simon Crean MP.
With over 95% of our products and services exported to international markets, companies such as Laservision are key enterprises driving and maintaining Australia's economic wellbeing.
Laservision has won the New South Wales Export Award five times in the past six years and the National Australian Export Award on two previous occasions.
With projects in Australia, Hong Kong, India, Singapore, Bahrain, Saudi Arabia, Russia and China, Laservision looks forward to a prosperous year in 2009, continuing to entertain the thousands of spectators around the world with our spectacular installations.
Laservision is a world-renowned pioneer of creative, high-impact solutions for the attractions, architectural lighting, advertising and special events industries. Our creations are projected to targeted, large-scale audiences, where audiences become an integral part of the experience.
These creations include permanently installed entertainment/communication for theme parks, tourist attractions and other special venues. Laservision also caters for themed celebrations and presentations for both the private and corporate sectors.
Laservision's world-renowned installations include Hong Kong, Singapore, Korea and Sydney's Darling Harbour. These installations can all be viewed at www.laservision.com.au
Contact
Shannonbr@laservision.com.au +612 9658 1000
E-mail:shannonbr@laservision.com.au
Web Site:www.laservision.com.au