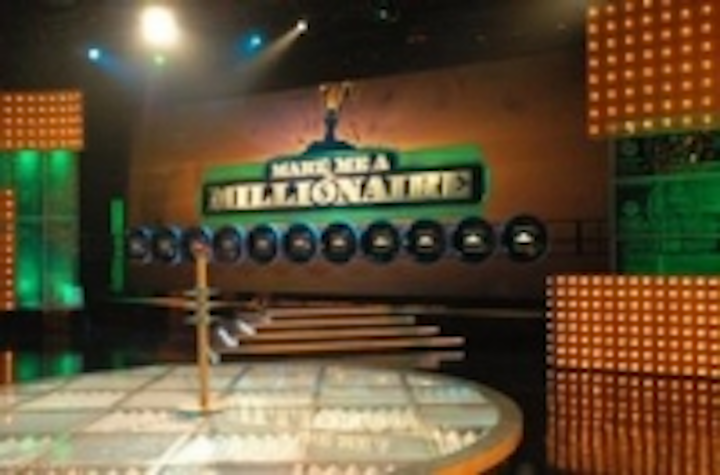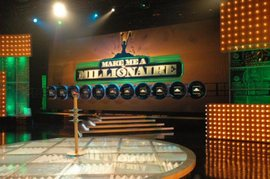 Date Announced: 29 Jan 2009
-- New version of the California Lottery's popular "The Big Spin" game show features a Lighthouse LED video display
IRVINE, Calif. –– When the California Lottery's newest lottery TV game show, "Make Me a Millionaire," debuts on Jan. 17, its set will feature a 33 feet wide by 12 feet high LED video display from Lighthouse Technologies Limited. The leading LED technology provider partnered with Background Images, Inc. to install the display, which opens and closes and provides onstage graphics and entertainment for the game show – an updated version of the CA Lottery's immensely popular show "The Big Spin."
"Officials at the California Lottery made it clear they wanted a large display that could open and close and change the look of the set with a variety of graphics," said Alan Barber, vice president of Background Images, Inc. "Lighthouse Technologies' R6-B 6mm LED video panel was a clear choice due to its durability, the clarity of the display and how well it functioned on set."
The 128 Lighthouse R6-B 6mm black LED indoor panels that comprise the display utilize the revolutionary black LED technology and are Gen-Lock and built flicker free for broadcast – providing a crisp, clear picture that transmits across the airwaves without losing clarity. The panels also feature a resolution of 22,500 pixel/m2, a contrast ratio of 3800:1 and a brightness of 2,000 nits.
"The California Lottery follows CBS Sports, CBS News and BET Networks installations as the latest high-profile television show to utilize Lighthouse's LED video displays – reinforcing that when it comes to displays built to broadcast standards, Lighthouse Technologies is second to none," said Joe Lapchick, senior sales manager, Eastern region, Lighthouse Technologies. "We are very happy to add another win with our partners at Background Images, who have helped Lighthouse establish a strong presence for itself in the U.S."
Lighthouse Technologies Limited is a global leader in LED display technology that develops, manufactures, and markets LED video display solutions for multiple indoor & outdoor applications, media and entertainment events, and sports arenas across the globe. With numerous technological breakthroughs to its name, Lighthouse has established itself as a multi award-winning leader in the LED display industry that holds itself to the highest standards of quality.
Founded in 1998 as a member of the Gold Peak Group, Hong Kong-based Lighthouse has a strong global presence with regional offices in Europe, North and South America, the Asia Pacific and China. Employing the most advanced technology, the highest quality manufacturing facilities, and world-class, round-the-clock technical support, Lighthouse satisfies customers on every major continent, captivating the imagination of millions. For more information about Lighthouse, please visit


Background Images is the premier rental company for all video display needs, from micro projectors for dashboard displays to gigantic backgrounds for outdoor stage events - and everything in between. Background Images is the only company to have union operators for both LED and Video Wall displays whether for Projection, LED, Video Wall, or Plasma Screens. Give Background Images a call and let the friendly, experienced staff help make your project shine!

Contact
U.S. Lighthouse Media Contact: Jenna Broughton Waggener Edstrom Tel: 415 547 7023 Email: jbroughton@waggeneredstrom.com Lighthouse Corporate Contact: Pilva Kwan/Anita Leung Lighthouse Technologies Limited, 6/F, No. 16 Science Park East Avenue, Hong Kong Science Park, Shatin, N.T., Hong Kong Tel: 852 2192 1688 Fax: 852 2423 1092

E-mail:info@lighthouse-tech.com

Web Site:www.lighthouse-tech.com