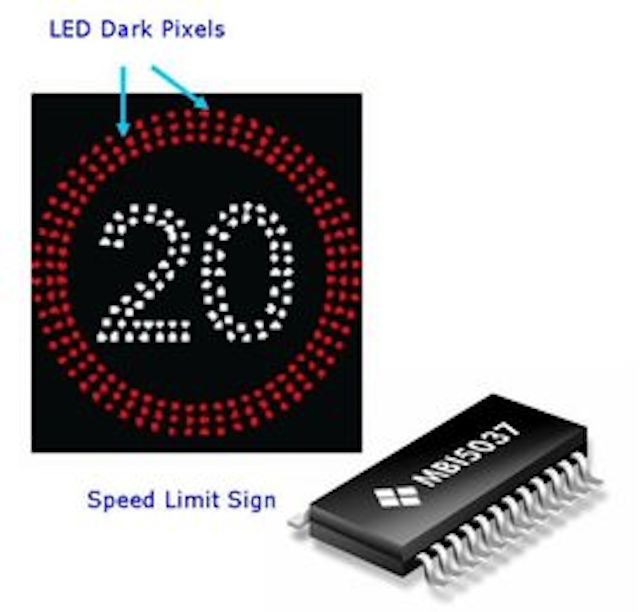 Date Announced: 13 Jan 2009
Hsinchu, Taiwan—LED driver IC leading provider Macroblock presents its newly developed MBI5037, a 16-channel constant current LED driver with smart power-saving modes and advanced error detection. MBI5037 is especially designed for long use of LED traffic sign applications with power saving up to 99%.
In LED traffic sign applications, the dark pixels will still consume a lot of power over long periods of time. To solve this problem, the MBI5037 provides two power-saving modes: sleep mode and 0-Power mode. Both modes feature only 100uA power consumption and reach new stage of smart power-saving in LED traffic sign applications.
The MBI5037 can enter in sleep mode and wake up compulsorily by command. It is suitable for LED traffic sign applications while LED panels only need to be turned on occasionally. In the 0-Power mode, the MBI5037 can save power automatically when all the output data are 0. It is suitable for LED traffic message sign, which partial of the LEDs are always turned-off. With MBI5037, users can easily design in their LED traffic sign applications with high efficiency, reliability and low cost.
The MBI5037 features compulsory silent open- /short error detection which are necessary in traffic sign applications. The MBI5037 can diagnose the individual LED error of whole LED panel including the dark pixels at very low current (0.1mA) within 700ns detection time and can reach flicker-free performance, ensuring the accuracy of information on LED panels. In addition, the MBI5037 is featured with pre-settable threshold voltage for leakage diagnosis and short-circuit detection to comply with the variation of different LED forward voltage.
MBI5037 can support constant output current from 3mA to 80mA and sustain up to 17V at the output ports. With Share-I-OTM technology, the MBI5037 can be a drop-in replacement of MBI 5025/ MBI 5026/ MBI5027/ MBI5028/ MBI5029.
Contact
For more information about MBI5037, please refer to Macroblock's website or contact Macroblock by email:
E-mail:marketing@mblock.com.tw
Web Site:www.mblock.com.tw