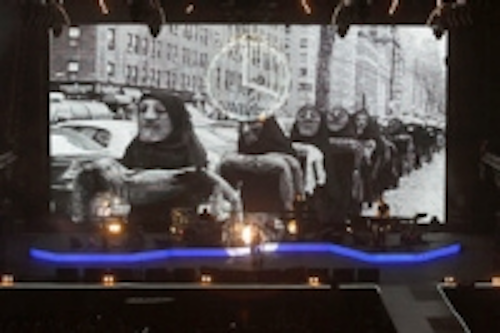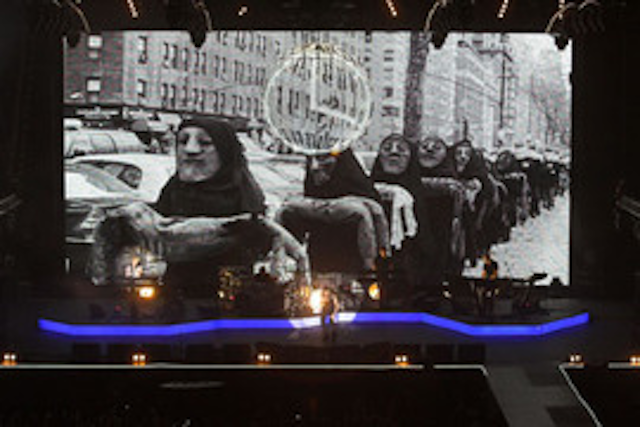 Date Announced: 01 Aug 2009
Depeche Mode continue their amazing live performance career, touring their 12th studio album "Sounds of The Universe", presenting yet another elegant visual mix of innovative aesthetics, technology and dynamics to their fans worldwide.
Once again, XL Video is supplying video equipment – Custom built screen, cameras/PPU, Catalyst media servers - and crew to the production.
Jon Shrimpton is directing the live camera mix, lighting is designed by Paul Normandale and the stage, set and overall visual vibe has been created by the band's long time artistic director, Anton Corbijn. Filmmaker Corbijn also produced 10 bespoke films for the tour. The project is being co-ordinated from the XL Video UK office by Des Fallon.
It's Shrimpton's first DM tour as director - an opportunity which he is relishing! "The chance of working with someone as imaginative and influential as Anton is truly inspiring. Initially, I was a bit like a teenager meeting my pop idol for the first time, but I soon relaxed because Anton's whole ethos is about the creative process becoming a shared experience and involving others. I have learnt an enormous amount from his vision and approach".
Shrimpton and Corbijn discussed the stage design (on which Corbijn also collaborated closely with Paul Normandale), the lighting elements and the mood he wanted to create. The album is calmer and more relaxed than some of their previous work, which set the tone for the show. From this emerged the substance of the IMAG mix - composed about 50/50 of ideas from Shrimpton and Corbijn - all tightly integrated with and related to the show's playback video material.
In terms of hardware, XL is supplying two Lighthouse R7 side screens, 7 panels wide by 6 high, positioned as close as possible to the stage to avoid becoming emasculated from the onstage screen, comprised of 42 x 42 panels of Barco MiTrix in 7 of XL's bespoke touring frames. The MiTrix screen is 28 panels high and the same width as the stage set.
Flown in front of this is a 3 x 3 metre MiTrix ball, specially engineered by XL Video. This is primarily used for playback footage - with carefully selected IMAG moments - and sometimes as a block-colour lighting effect.
The content appearing on the ball is thoughtfully composed to be blended or contrasted with that appearing on the large MiTrix screen and/or the sides ..... all elements creating a harmonious, stimulating visual experience for the audience. Some fabulous subtleties are interwoven, e.g. for "Walking in My Shoes", a big black crow appears on the back screen, with a close-up of his eye on the ball ... blinking on the fourth beat of every second bar.
Shrimpton is using 5 operated cameras - all Sony D50s - standard definition chosen because of its appropriateness for the MiTrix surface - plus two of his favourite Sony BRC 300 robot cameras, joystick controlled by him at the mixer.
The operated cameras are positioned 2 at FOH, and 3 in the pit - one static on stage right, one on track, and one stage left on a rolling 'spider' tripod. The robots are attached to the keyboard stands - placed after some experimentation during rehearsals.
Shrimpton mixes using his much loved GV Kayak console - on which he is using all 28 inputs, all 10 aux outputs and all 22 Macros.
They are using a customised version of XL's touring PPU rack, engineered by John Steel, which also contains a Magic DVE for backup and for helping make a 'virtual ball' for the festival shows where the real thing can't be used.
There's a continual active exchange of camera/content feeds between the Kayak and the Catalyst, operated by Richard Stembridge. Catalyst footage is fed to the Kayak to be output to the side screens, and camera feeds are sent to Catalyst for treating (a combination of Shrimpton and Corbijn ideas), sizing and outputting to the back screen via a Barco D320 processor, and for being mapped to fit the ball.
Stembridge operates the latest version of Catalyst running on SSD from a WholeHog II console - with XL supplying a complete hot backup system. They are using 24 layers simultaneously and 4 Mix Windows for outputting to the 4 screen surfaces. Corbijn's movies - all in full HD - are timecode triggered from the band's Pro Tools system.
Shrimpton says it's the most "considered " and gentlest paced mix he's ever cut, all tied in with the lighting cues and the thought-provoking 'bigger picture' sought by the creative team. It's a real honour to be working with such "original art legends" he enthuses, and 2 months in to the tour he is still experiencing plenty of magic 'goose bump' moments whilst operating the show.
Depeche Mode have just finished up their first European leg of the tour and go to the US for 2 months before returning to Europe in November. Live performance dates are currently scheduled to continue until February 2010.
Contact
For more press info on XL Video UK please contact Louise Stickland on +44 (0)1865 202679 or +44 (0)7831 329888 or Email 'louise@loosplat.com'. To contact XL Video UK direct, call +44 (0)1442 849400 or check www.xlvideo.tv
E-mail:louise@loosplat.com
Web Site:www.xlvideo.tv