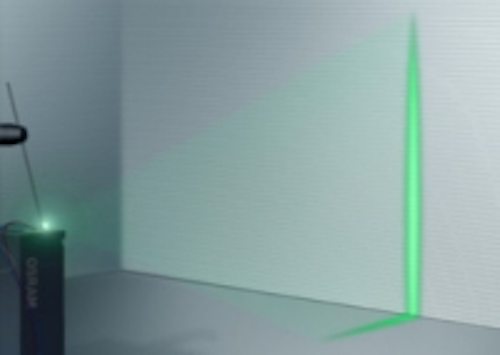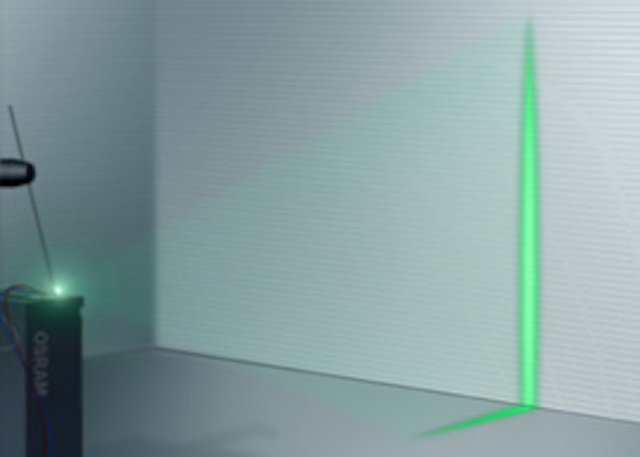 Date Announced: 21 Aug 2009
OSRAM Opto Semiconductors has achieved a major breakthrough with its direct emitting green indium gallium nitride (InGaN) laser. Laboratory results at the predevelopment stage show that it already achieves an optical output of 50 mW and emits light in true green with a wavelength of 515 nm. Compared with semiconductor lasers based on existing technology that operate with frequency doubling, direct emitting green lasers are more compact, offer greater temperature stability, are easier to control and have higher modulation capability at several hundred MHz.
OSRAM has overcome the previous limits of the InGaN (indium gallium nitride) material system by succeeding in manufacturing the first direct emitting green laser diode from the InGaN material system with a high optical output. The diode emits a "true green" light, which is defined by the spectral range of 515 to 535 nm. In this range, efficient high-quality semiconductor lasers have been commercially available to date only as frequency-doubled versions. In the medium term, however, direct emitting green lasers could replace frequency-doubled lasers for numerous applications.
Green lasers are used in a variety of medical and industrial applications, and also as light sources in mobile mini-projectors. A direct emitting green laser can help make these projectors even smaller, with even better performance. The great advantage of laser projectors – a consistently sharp, true-color, high-contrast image irrespective of the projection distance and projection surface – should one day be available for cell phones and cameras.
The German Ministry for Education and Research is sponsoring the MOLAS research project (until March 2011, FKZ 13N9373), which involves technologies for ultra-compact and mobile laser projection systems. As part of this project, OSRAM Opto Semiconductors is developing efficient laser light sources based on the InGaN material system (indium-gallium-nitride) for mobile projection systems. OSRAM already offers direct emitting blue InGaN laser diodes for commercial applications. With the first direct emitting green laser, the company has achieved an important early objective.
Preliminary performance data are impressive. In pulsed mode operation at room temperature, the laboratory prototype has achieved an optical output of 50 mW, and the threshold current density is around 9 kA/cm². Dr. Christian Fricke, Chief Technology Officer at OSRAM Opto Semiconductors, said, "With this demonstration, we have shown that green lasers can be manufactured from indium-gallium-nitride. This puts us on course to produce compact, cost-effective, high-quality green laser light sources."
For more information, please contact OSRAM Opto Semiconductors at info@osram-os.com or call 866-993-5211.
Picture: OSRAM
http://www.osram-os.com/press
Straight from the laboratory: With its direct emitting green laser OSRAM Opto Semiconductors has set an important new milestone in mobile laser projection.
ABOUT OSRAM OPTO SEMICONDUCTORS
OSRAM is part of the Industry sector of Siemens and one of the two leading lighting manufacturers in the world. Its subsidiary, OSRAM Opto Semiconductors GmbH in Regensburg (Germany), offers its customers solutions based on semiconductor technology for lighting, sensor and visualization applications. OSRAM Opto Semiconductors has production sites in Regensburg (Germany) and Penang (Malaysia). Its headquarters for North America is in Sunnyvale, CA (USA), and for Asia in Hong Kong. OSRAM Opto Semiconductors also has sales offices throughout the world. In the 2008 fiscal year (to the end of September) OSRAM Opto Semiconductors employed more than 4600 people and achieved sales totaling 529 million euros. For more information go to www.osram-os.com.
Contact
OSRAM Opto Semiconductors
E-mail:info@osram-os.com
Web Site:www.osram-os.com