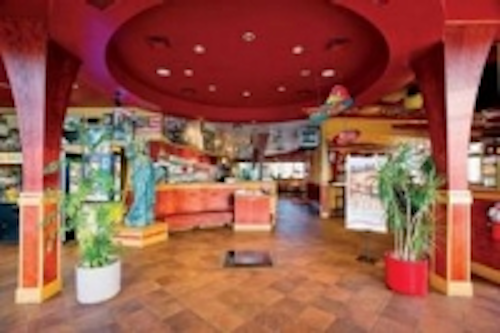 Date Announced: 06 Aug 2009
CLEVELAND, OH — GE Consumer & Industrial has announced that Red Robin Gourmet Burgers, Inc., has replaced ~12,000 standard incandescent and halogen lights in more than 150 Red Robin® restaurant locations in the U.S. with new, more efficient 7–watt GE light emitting diode (LED) PAR 20 flood and spot lights. Red Robin is using the GE LED lights for general down lighting applications that require a high quality of light, measured as lamp–to–lamp white LED color consistency.
GE indicates that the installation in more than half of Red Robin's company–owned restaurants in the U.S. is the largest application of GE's 7–watt LED PAR lamp in a restaurant setting. The switch helps preserve the ambiance of Red Robin® restaurants and customers' ultimate comfort while supporting Red Robin's initiatives targeted at saving several hundred thousand dollars annually in lighting energy costs over the life of the new LED lights.
"Switching to LED lamps in our company–owned Red Robin restaurants offers immediate energy–cost advantages given the number of locations involved in our energy reduction efforts," said John Rogers, Red Robin's vice president of capital purchasing. "We expect a very attractive return on investment with reductions in both energy consumption and maintenance requirements."
The new 7–watt GE LED lamps (200 lumens) cut energy consumption up to 77 percent and last more than 6 times longer (a 20,000–hour rated life to 70 percent of initial light output) than standard 30–watt incandescent R20 reflectors (200 lumens) with a 3,000–hour rated life. The annual energy savings for just one 7–watt GE LED light operated for 4,500 hours annually at $.10/kWh will be approximately $10.
"These efficient GE LED lights are perfect for a restaurant setting where access to some fixtures can be challenging," says John Strainic, global product general manager—lighting, GE Consumer & Industrial. "When you're paying for maintenance across a chain of restaurants, you love the idea of extending replacement cycles as much as possible."
GE's LED lamps, which feature advanced optical controls that reduce wasted extraneous light, were installed in phases at Red Robin's chain of restaurants in November and December 2008, and February and March 2009. Areas inside the restaurant now illuminated with GE LED lights include the entrance and lobby areas, lighting over dining room tables and perimeter lighting.
GE scientists invented LEDs decades ago. Early LEDs were used in specialized applications, but today GE LED systems are replacing traditional lighting in a fast–growing variety of commercial settings. For example, a retail store could use GE LED lighting in its signage in front of the store by the street; in signs mounted to the building; in outdoor parking lot and area lights; in cove, border and other architectural effect lighting; in refrigerated and other display cases inside the store; and in track and recessed fixtures used to provide general lighting or spot lighting of products. Moreover, the city where that store is located may be using GE LED technology in its traffic and pedestrian signals. To learn more, visit www.led.com.
About Red Robin Gourmet Burgers, Inc.
Red Robin Gourmet Burgers, Inc.(www.redrobin.com,), a casual dining restaurant chain founded in 1969 that operates through its wholly–owned subsidiary, Red Robin International, Inc., serves up wholesome, fun, feel–good experiences in a kid– and family–friendly environment. Red Robin® restaurants are famous for serving more than two dozen insanely delicious, high–quality gourmet burgers in a variety of recipes with Bottomless Steak Fries®, as well as salads, soups, appetizers, entrees, desserts, and signature Mad Mixology® Beverages. There are more than 425 Red Robin® restaurants located across the United States and Canada, including corporate–owned locations and those operating under franchise agreements.
GE Consumer & Industrial spans the globe as an industry leader in major appliances, lighting and integrated industrial equipment, systems and services. Providing solutions for commercial, industrial and residential use in more than 100 countries, GE Consumer & Industrial uses innovative technologies and ecomaginationSM, a GE initiative to aggressively bring to market new technologies that help customers and consumers meet pressing environmental challenges, to deliver comfort, convenience and electrical protection and control. General Electric (NYSE: GE), imagination at work, sells products under the Monogram®, Profile™, GE®, Hotpoint®, SmartWater™, Reveal® and Energy Smart® consumer brands, and Entellisys®, Tetra®, Vio™ and Immersion® commercial brands.
Contact
GE Comsumer and Industrial
E-mail:info@ge.com
Web Site:www.ge.com