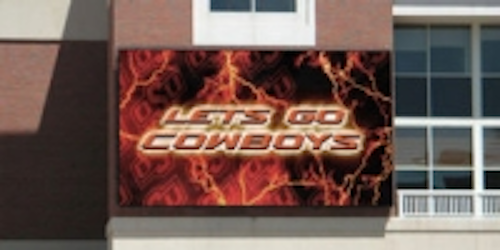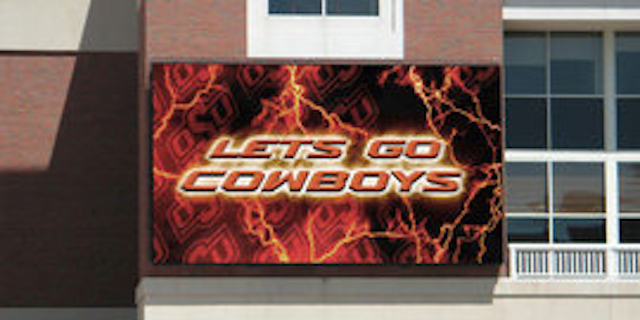 Date Announced: 11 Aug 2009
BROOKINGS, S.D. – August 11, 2009 – Daktronics Inc. (Nasdaq – DAKT) of Brookings, S.D., has completed the design, manufacture and installation of an integrated video display system in Boone Pickens Stadium on the campus of Oklahoma State University in Stillwater, Okla.
The Cowboys' new equipment includes four Daktronics HD-16 light emitting diode (LED) video displays. Two measure approximately 22 feet high and 42 feet wide, while the others measure about 20 feet high and 36 feet wide. Daktronics finished installing over 1,600 square feet of HD-X display technology in Stillwater by the beginning of August, helping to make Boone Pickens Stadium one of the elite college football facilities in the nation.
"OSU elected to use four 16 mm HD displays to ensure each of our patrons a fantastic viewing opportunity," said John Houck, Assistant Vice President of Construction Management at OSU. "We believe high-def is a key ingredient in accomplishing that goal. Daktronics has been a great partner through the years and we look forward to our continuing relationship with them in the future."
"OSU is one of the only Division I universities to feature four HD-16 LED video displays," said Perry Grave, Daktronics Sales. "This arrangement of video displays in all four corners of the facility allows every fan a first class view of instant replays and scoring information."
Daktronics HD-X technology and its control system allow for complete flexibility in programming. The Cowboys' new video displays will be able to serve as single displays or be divided into multiple zones (windows) to show a wide variety of statistics, information, graphics, animation and live and recorded video. Additional LED timing displays will be installed throughout the stadium, keeping every OSU patron updated during each game.
For over three decades, Daktronics and Oklahoma State University have worked together to provide an impressive athletic atmosphere in Stillwater. In 1973, OSU ordered and installed a Daktronics basketball scoreboard, and the university has been a cherished customer ever since. Most recently the school has upgraded its basketball, softball, baseball, and wrestling facilities with Daktronics equipment.
About Boone Pickens Stadium
The upgrades to Boone Pickens Stadium's display system come as part of a complete overhaul of the entire facility. Since T. Boone Pickens, oil man and OSU alum, made his substantial donation to the university in 2005, the stadium has experienced a revitalization, with the west end zone, practice facilities, artificial turf field, and brick exterior all being added in the past few years. A new era of Cowboy football under the direction of head coach Mike Gundy is underway, with the refreshed stadium helping the OSU team regain their influence in the Big 12 Conference in the past few seasons.
About Daktronics
Daktronics is recognized as the world's leading provider of full-color LED video displays. Daktronics began manufacturing large screen, full-color, LED video displays in 1997. Since then, more than 5,700 large screen displays have been sold and installed in sports, entertainment and commercial facilities around the world. Since 2001, independent market research conducted by iSuppli Corp. lists Daktronics as the world's leading provider of large screen LED video displays. Daktronics designs, manufactures, markets and services display systems for customers around the world, in sport, business and transportation applications. For more information, visit the company's World Wide Web site at: http://www.daktronics.com, e-mail the company at sales@daktronics.com, call (605) 697-4300 or toll-free (800) 325-8766 in the United States or write to the company at 331 32nd Ave. PO Box 5128 Brookings, S.D. 57006-5128.
-- END --
Contact
Media Relations, Mark Steinkamp Daktronics Marketing Manager tel 605-692-0200 e-mail mark.steinkamp@daktronics.com
E-mail:sales@daktronics.com
Web Site:www.daktronics.com