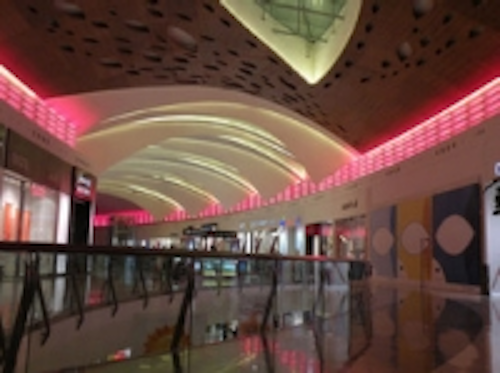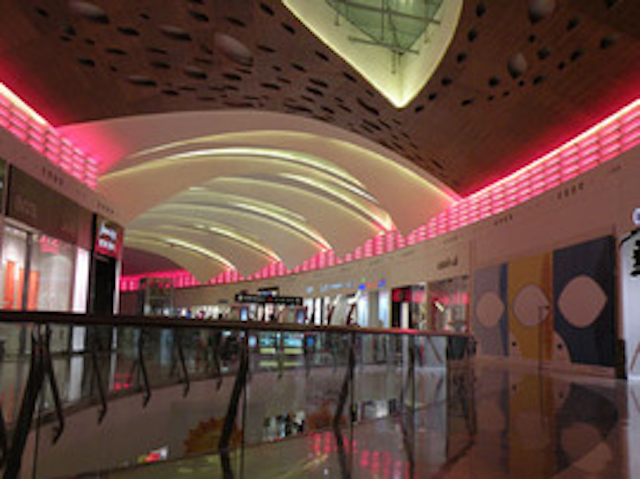 Date Announced: 14 Aug 2009
Over 4 kilometres of Anolis LED products have been specified and installed at the newly opened Mall of Arabia complex, a landmark retail, leisure and entertainment centre - and the largest mall - in Jeddah, Saudi Arabia.
Nearly 4000 Anolis ArcLine units are used - making it the largest Anolis project in the world to date!
The Anolis products were specified by the client's architect Eng. Hareth, and supplied to the client, Fawaz Al Hokair Real Estate Group, via well known local lighting supplier Inara Co. Ltd. The deal was negotiated between Inara Co's engineer Nabeel Al-Shafie and Elie Battah, Anolis's ME regional sales manager. Al-Shafie and Mohammad Atallah supervised the installation and commissioning.
The breakdown is 3234 ArcLine 36 RGB, 240 ArcLine 24 RGB, 75 ArcLine 18 RGB and 200 ArcLine 12 RGB fixtures. These are controlled by 375 Anolis ArcPower drivers.
The ArcLine LED battens are attached inside metallic coves, and are installed in a 5-deep configuration running along the top of the walls just below the start of the ceiling on both sides of the mall's top floor.
Set in colour changing mode, this produces striking visual effects which help define the space, and also provides some fun eye-candy for shoppers. Hareth fully understands the psychological impact that interesting feature lighting can bring to an environment like this, and also how good lighting can get people in the mood for some serious retail therapy! When in colour change mode, the ArcLine also acts as a beacon attracting people into the complex for a further look - sometimes just to see the lighting which has created a real stir!
Anolis LED products were chosen because they wanted high quality, very reliable LEDs, and Anolis came highly recommended in addition to being the best priced option. Thanks to a highly efficiently co-ordinated operation back at the factory in the Czech Republic, Anolis was also able to easily meet the deadlines.
Fitting the Anolis strips into the Mall also went exceptionally smoothly "Thanks to the very easy Anolis plug-in system," comments Al-Shafie, adding, that the client is "Absolutely delighted" with the results.
The Mall offers 330 shops showcasing top international brands, plus several fast food outlets and other quality restaurants that have been carefully selected to provide a family atmosphere for all visitors. Other features include entertainment facilities, with play lounges and the snow village – the first of its kind in KSA – where real snow can be enjoyed in the summer season. There is also a 10,000m2 Géant hypermarket. Mall of Arabia is located 10 minutes drive from King Abdulaziz International Airport and 15 minutes from the city centre or the cornice.
Contact
For more press info. on Anolis, please contact Louise Stickland on +44 (0)1865 202679/+44 (0)7831 329888 or Email 'louise@loosplat.com'. For more product information, check www.anolis.eu
E-mail:louise@loosplat.com
Web Site:www.anolis.eu