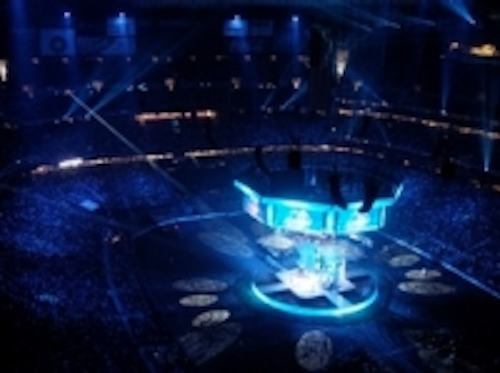 Date Announced: 20 Mar 2009
Visualization pioneer Barco announced today that Houston-based LD Systems has selected Barco MiTRIX transparent LED modules for multiple high-resolution video walls in their custom installation for the 2009 Houston Livestock Show and Rodeo. The three week March event, billed as the world's largest livestock and rodeo show, combines both competitions with a big-name concert series under one roof, Houston's Reliant Stadium.
With 32 individual LED screens comprised of over 4000 MiTRIX modules suspended from the stadium's ceiling, the LD Systems structure needed to be reconfigured easily on an event-by-event basis. During the rodeo competition, the MiTRIX structure served as an overhead IMAG and statistics display, while during concert mode, the bottom LED skirt descended to the stadium floor — becoming the footer skirt for the rotating concert stage. The concert stage backdrop is comprised of nearly 1,000 panels. The entire transformation, which takes only 20 minutes, gets repeated daily throughout the event.
Lighting elements within the arena included multiple High End Systems' luminaires. Video content was fed to the MiTRIX walls in four zones with Barco DX-700 LED digitizers providing the processing.
The MiTRIX modules were chosen in part, because of their transparency, light weight, and superb brightness.
"This technology has never been used for a rodeo before," said Scott Justis, Marketing Manager for LD Systems, "and this show has definitely raised the bar for rodeos. The MiTRIX was chosen for its weight, its brightness, but especially because of its transparency. On our previous stages, the backdrop was fabric, and the audience around back could not see the performers except for the IMAG."
"But because you can see through the MiTRIX modules, even when the brightness is turned up, you can still see the performers and the band, even when the stage is rotated away from a portion of the audience," Justis added.
"There's a lot of dust in there, and it gets over everything," continued Justis, "and we realized that we really needed an all weather product. So, in addition to resolution, the MiTRIX durability and serviceability really played into it. In fact, we didn't start on the 3D design until we were comfortable with the product selection. Moving forward, because we own the modules, we want to offer this technology for our other corporate, trade show, concert and touring clientele."
"This event has been very well received, by the local press, the sponsors, and especially by LD System's client, the Houston Rodeo," said Steve Scorse, VP of Sales and Marketing for Barco's Media & Entertainment division, N.A. "With Barco MiTRIX technology, it's proved to be a great way to give value to the sponsors, to increase sponsor sales, and to dramatically enhance the audience's experience."
The Houston Livestock and Rodeo Show ends Sunday March 22, 2009.
About LD Systems, L.P.
LD Systems is a Texas-based sound, light, and video company serving the event and installation markets. Our Production Services department supports a range of clientele from concert touring acts to corporate event producers. Our Systems Integration Department designs, engineers and installs cutting edge communications systems from corporate video and teleconference systems to sound, lighting and video systems for performance venues and houses of worship. Whether carrying a briefcase or a guitar case, we are committed to those who need to communicate clearly. Visit www.ldsystems.com for more information.
About Barco
Barco, a global technology company, designs and develops visualization products for a variety of selected professional markets. Barco has its own facilities for Sales & Marketing, Customer Support, R&D and Manufacturing in Europe, North America and Asia Pacific. Barco (NYSE Euronext Brussels: BAR) is active in more than 90 countries with about 3500 employees worldwide. Barco posted sales of 725 million euro in 2008.
Contact
Johanna Ocampo Press & PR Specialist North America Barco n.v. Phone: 916 273 5301
E-mail:johanna.ocampo@barco.com
Web Site:www.barco.com