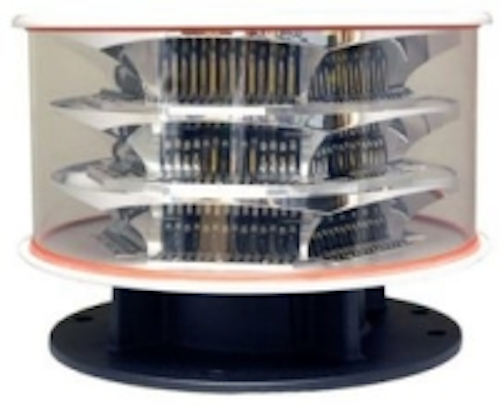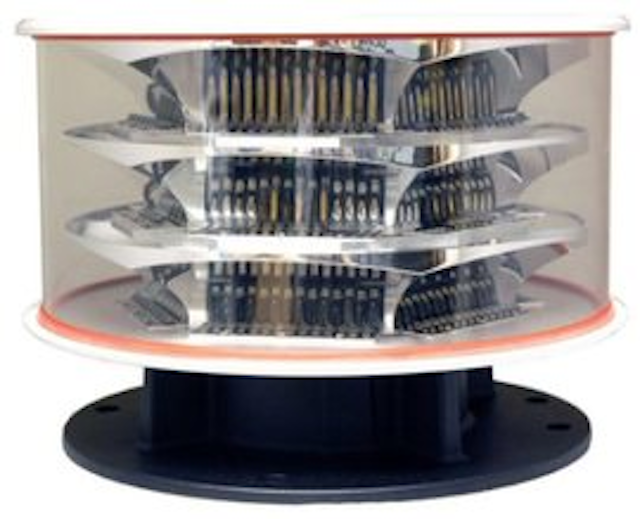 Date Announced: 30 Mar 2009
Farmingdale, NJ –– Applied LED technology specialist Dialight has introduced an industry first with its ETL certified and 5-year complete performance warranted all LED dual flashing strobe to replace Xenon technology that typically lasts only up to two years.
In fact the completely sealed flash head, designed to suit any tower needing medium intensity L-864/L-865 dual lighting systems, is more likely to exceed a 10-year life expectancy thereby vastly reducing the need for maintenance and associated expensive tower climbs.
Maintenance is made even easier as the power supply/control box can be located at the base of the tower or up to 550 ft from the light engine and is the industry's first power drive module equipped with full diagnostics routines for quick fault finding.
At around 45 lbs and less than 12" high, Dialight's LED dual strobe is half the size of the Xenon equivalent and by far the smallest on the market, offering significant reduction in wind loading. Using state-of-the-art high flux LED technology it is also resistant to shock and vibration and with no power supply components in the flash head it eliminates RF interference with cell networks, both of these being common problems with Xenon technology.
Dialight's dual flashing strobe is designed to use low voltage flexible cable, eliminating the need to send high voltage up a tower, while saving on power consumption. It also has lightning protection tested up to 2MV/10kA and operates at temperatures from -40°C to +55°C. The environmentally friendly all LED dual strobe uses Dialight's highly precise patent pending optics to achieve minimum ground scatter and contains no harmful waste material.
This product is available now through Dialight's worldwide network of distributors.
Dialight plc (LSE: DIA.L) is leading the lighting revolution for industrial users across the world. Applying leading edge LED technology it produces retro-fittable lighting fixtures designed specifically for hazardous locations, obstruction lighting, traffic and rail signalling to vastly reduce maintenance, save energy, improve safety and ease disposal. Versions of these high specification luminaires are also produced for more general industrial and outdoor situations. The company is headquartered in the UK with operating locations in the UK, USA, Germany and Mexico. More information is available at www.dialight.com.
Contact
David Jennings, Dialight Corporation, Farmingdale, NJ Phone 732 751 5880
E-mail:djennings@dialight.com
Web Site:www.dialight.com