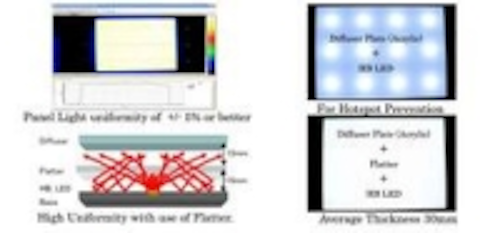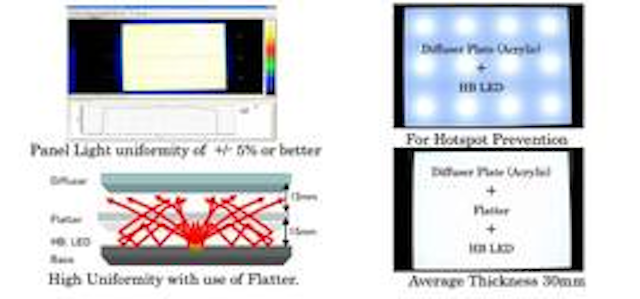 Date Announced: 05 Mar 2009
UniBrite: LED Flat Panel
Converting the point light emitted from an LED to a surface emitter is a challenging task. Various methods using lenses and diffusers have been tried. However, these methods have limitations.
The UniBrite Flatter is an innovative technology enabling the use of a minimum number of high-brightness
LEDs to produce a very uniform and bright light source.
UniBrite merits
No hot spots
Maximizes LED lifetime due to reduction in heat
Reduction in the number of LED's required
Isotropic brightness in a thin package
Easily scalable to various sizes
Contact
OPTO DESIGN, INC. Head Office: 3-2-6-108, MINAMIOSAWA, HACHIOJI-SHI, TOKYO, 192-0364, JAPAN TEL (81)426 76 5335; FAX (81)426 79 3800 Sagamihara Branch Office: SAGAMIHARA INCUBATION CENTER 608, NISHI-HASHIMOTO 5-4-30 SAGAMIHARA-SHI, KANAGAWA-KEN 229-1131 JAPAN TEL (81)42 770 9779+ FAX (81)42 770 9778
E-mail:ken_sato@opto-design.com
Web Site:www.opto-design.com/