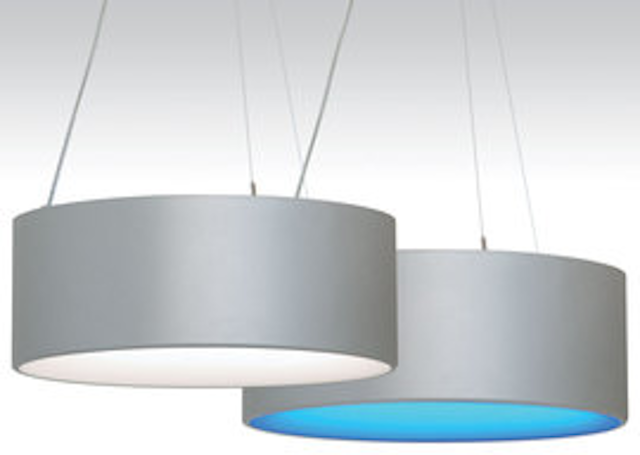 Date Announced: 23 Mar 2009
With a diameter of 24 inches, Delray Lighting's Cylindro fixture is a large-scale pendant luminary that works well in conference rooms, reception areas, retail cashier/wrap counters and other higher traffic spaces. Cylindro coordinates well with contemporary design elements like exposed brick walls, wood rafters and joists, uncovered electrical, heating and cooling components, and polished concrete floors.
The smooth, round anodized aluminum outer shell provides contrast for the inner opal acrylic diffuser, which produces soft, even up and down light.
Cylindro is available with energy-efficient multi-lamp compact fluorescent (CFL), or with red, green, blue (or color sequencing) LEDs. Concealed halogen MR16 or AR111 lamp options may also be added for more focused task lighting, switched separately for additional control.
Supplied standard with adjustable aircraft and electrical cables, Cylindro installation may be adjusted to accommodate any ceiling height or incline. The CFL Cylindro features .95 power factor electronic ballasts, with several dimming options. The LED Cylindro contains easily serviced Osram standard components and accommodates several LED-sequencing options.
Delray Lighting Inc. is a Burbank, California based manufacturer of energy efficient retrofit and new construction commercial lighting fixtures, in business since 1991. Delray distributes through a nation-wide network of regional sales representatives located in nearly all 50 states and Canada. For additional information, please visit www.delraylighting.com.
Contact
Contact: Tiffany Lyon Telephone: (818) 767-3793
E-mail:tiffanylyon@delraylighting.com
Web Site:www.delraylighting.com