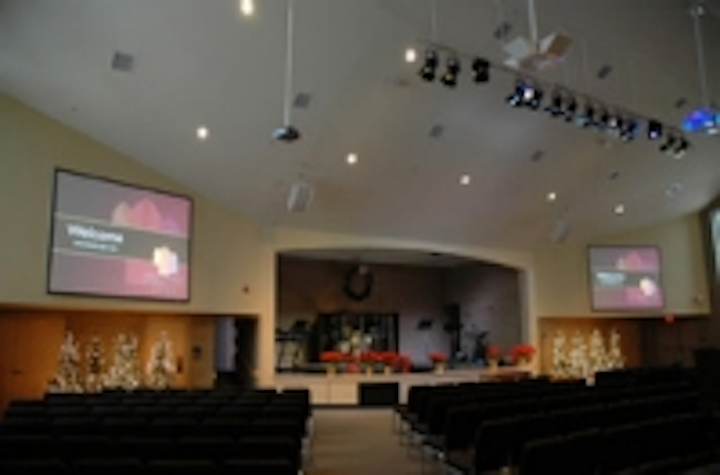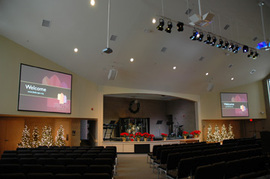 Date Announced: 06 Mar 2009
ROCHESTER HILLS, MI – For 25 years, Faith Church EPC had gone without a building of its own. Based in this attractive Detroit suburb, the church's congregation met at various schools and rented facilities on Sundays and holidays, having to go through the arduous process of transporting and setting up its equipment every week.
The challenges of meeting these constant set-up demands gave Faith EPC administrators an appreciation for equipment that is durable, dependable and easy to work with. So when the church finally fulfilled its long-held dream of constructing its own building in 2008, it wanted a lighting system that was user friendly and reliable, in addition to being performance-driven and priced within its budget.
Based on these criteria, Faith's Technical and Creative Director Tom Moyer put together a lighting ensemble comprised largely of LED fixtures from Elation Professional. The system includes 12 Elation Opti Tri Par LED par-style fixtures and four Design LED Tri-Brick LED color wash bricks, both of which provide RGB color mixing. Both DMX-compatible units also feature Elation's exclusive cutting-edge Tri-Color LED Technology, whereby each LED lamp contains three different-color LED diodes (red, green and blue), resulting in smoother color mixing and the elimination of multi-color shadows. An Elation Opto Branch 4 DMX distributor is used to send the DMX control signal to the fixtures.
The system was obtained from and installed by Advanced Light and Sound (Troy, MI). Moyer, who worked closely with Advanced's Bob Minchella, said he chose the Opti Tri Par and DLED 36 Tri-Brick because they filled a number of the church's needs. "We'd been looking for an LED option, because we wanted to reduce operational costs going into the building," Moyer explained. The Elation LEDs' low power consumption, along with their 50,000-hour lamp life, were ideal for keeping a lid on energy and maintenance costs, he said. Moyer also liked the fact that the Opti Tri Par and DLED 36 Tri-Brick were gel-free fixtures that could "pull almost any color at will" through RGB mixing. "Not having to pull out ladders or our lift to change gels – or maintain an inventory of gel cuts – is a great time saver, allowing me more time for programming."
The fixtures are being run in 3-DMX-channel RGB mixing mode. Their ability to smoothly blend an infinite spectrum of colors has provided an ideal lighting solution for the church's 325-seat auditorium, said Moyer. "We use them both in the daytime for morning services and in the evening for special events. They do just fine during the day to light up the space and give it a warm feel. I can pull some really soft amber face lighting, and I can also pull some rich, vibrant colors. The lights really excel, and folks love the real rich colors."
In addition to their performance, Moyer likes the way the Opti Tri Pars' external appearance contributes to the room's design. "They have a very clean, high-tech look. It's a newer look that's more like an ETC fixture than a traditional par can. We're using them with barn doors and this gives them a really theatrical look."
The four DLED 36 Tri-Bricks are mounted behind an arch over the stage and are used to light the drum kit and provide a small wall wash. Moyer would eventually like to expand the system, adding more DLED 36 Tri-Bricks to wash the back wall. If he does this or adds any other new fixtures in the future, he will be able to do so easily, thanks to the expandability of his Elation Opto Branch 4 DMX distributor, which can be easily linked to other Opto Branches via 3- or 5-pin XLR. "That's one reason I went with the Opto Branch – because it's expandable," said Moyer. "It gives us the ability to add to our lighting system without having to upgrade the splitter."
As Faith EPC Church grows in the future, it will definitely continue using Elation lighting products, according to Moyer. "The Elation fixtures clearly provided the most impact for the tight lighting budget, and that's why I was so eager to include them in this design. Having versatile production resources such as the Elation Tri-LED lights, is one of the key elements we need to maximize the ministry potential of our new church home.
Contact
Elation Professional Ph: 866-245-6726
E-mail:christine@fucinipro.com
Web Site:www.elationlighting.com