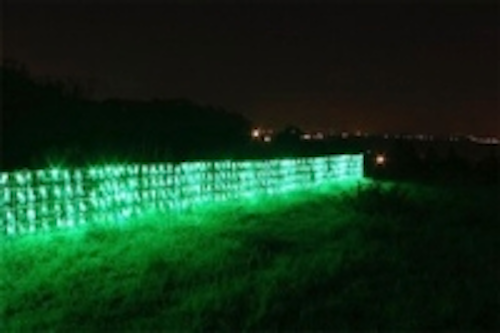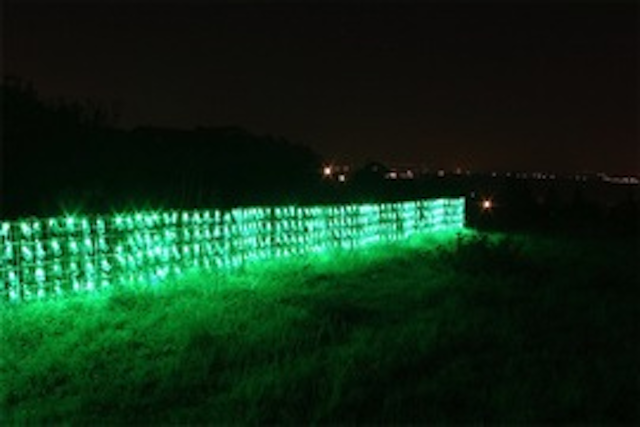 Date Announced: 29 Mar 2009
Smart Light Sydney organisers have today announced six of the innovative light art sculptures that will feature on the Light Walk, a free public walk of light art around the city's iconic harbour front precinct, taking place nightly from 6.00pm til midnight, 26 May – 14 June.
The Light Walk will be the highlight of Smart Light Sydney, a major component of Vivid Sydney, leading visitors on a journey of beautiful and dynamic light art from Sydney Observatory, through The Rocks, around Circular Quay to Sydney Opera House.
The Light Walk will feature sculpture, interactive and performance-based art displays, with legendary musician and multimedia artist Brian Eno's light treatment of the Sydney Opera House's sails acting as the showpiece for the route.
Eno's innovative work will appear alongside more than 20 light art displays from talented local and international artists at the cutting edge of smart design, and art sculptures on the Light Walk will be energy conscious and where possible demonstrate low-energy solutions to public lighting.
The Light Walk will provide an opportunity to demonstrate new and existing technologies in new settings, and will transform the city night environment by creating atmospheres completely different to those experienced during the day.
Warren Langley: Vessel of (Horti) Cultural Plenty
Standing some four storeys high, Warren Langley's Vessel of (Horti) Cultural Plenty promises to both demand and reward multiple viewings. The sculpture, situated in the park opposite Cadman's Cottage, will display a direct response to the change in surrounding light levels so visitors can expect dramatic day and night variations.
Despite its size, the vessel will be illuminated by two 150W metal halide globes, offering an extraordinary power-to-effect ratio. Boasting almost 30 years experience in public artworks, Langley has achieved international recognition for his light and landscape installations in Australia, New Zealand, France, Sweden, Scotland, Canada and the USA.
Nuno Maya & Carole Purnelle: Human Tiles
Nuno Maya and Carole Purnelle plan to cover an entire building facade in The Rocks with virtual tiles for the Light Walk, and the pair are relying on the public to bring their interactive installation to life. Using video projectors, people will be able to "paint" the virtual wall of tiles with their clothing colours and movements in real time, creating a dazzling effect of animated patterns.
Nuno and Purnelle manage Ocubo, a multimedia atelier based in Portugal that specialises in innovative cultural projects that bridge the real and the virtual worlds.
Ruth McDermott, Trent Middleton & Ben Baxter: Cloud of Bats
At dusk, Sydney reveals its true vitality as grey-headed flying-foxes wheel across the sky in search of food. Through a combination of light and sound, Cloud of Bats will evoke this joyous and distinctly Sydney scene, yet also draw attention to the current decline in flying-fox population.
Located in Watson Road, The Rocks, this imaginative Light Walk installation is the work of Sydneysiders Ruth McDermott, Trent Middleton and Ben Baxter. With a particular interest in region, culture and environment, McDermott and Baxter have worked together before on several custom lighting projects, while architect Middleton has been involved in a variety of exciting projects across Sydney.
Emrah Baki Ulas & Mirjam Roos: Birds
Relying on natural light by day and existing in-ground uplighters by night, Emrah Baki Ulas and Mirjam Roos' Birds not only consumes zero new energy, it actually utilises wasted energy. The striking and joyful installation comprises a flock of abstractly shaped birds, built from coated and coloured glass and polycarbonate pieces, which sit on wires extending between palm trees.
Currently a senior lighting designer at Steensen Varming, Ulas has taken part in various international lighting events and claimed CIBSE's Young Lighter of the Year Award in 2008. Roos worked on several projects and installations in Germany and Austria before moving to Australia and joining Steensen Varming, also as a senior lighting designer.
Tom Barker & M. Hank Haeusler: Janus
Posting photos on Facebook has become a part of everyday life for today's internet savvy generation, but Tom Barker and M. Hank Haeusler are inviting social networkers to go a step further for the Light Walk.
The duo's installation, Janus will comprise a pixel facade of a giant human face hanging above a laneway in The Rocks.
People will be encouraged to submit photos of their faces via a Facebook page and the face, generated by 191 grayscale-controlled light spheres, will modify its expression to reflect the public's mood. Inspired by the Janus, the Roman god with two faces, Barker and Haeusler's installation is part of their ongoing research into complex and non-standard media facades.
Andy Uprock: The Paradox Between Light and Time
An empty plastic cup is little more than rubbish to most people, but in the hands of Sydney-based artist Andy Uprock that same cup can imaginatively transform an entire streetscape. The idea came to the artist as a child when he noticed the patterns and shapes that emerged from the squashed bottles and cups trapped in wire fences.
Using a method called 'Cuprocking' that runs parallel to the culture of graffiti, Uprock has brought scores of bland streetscapes to life with colourful floating cup installations in Sydney, Barcelona, Paris, London, New York and Tokyo.
Visit www.smartlightsydney.com for more info and for the full Vivid Sydney program visit www.vividsydney.com. Vivid Sydney is one of five anchor events in the first ever NSW Master Events Calendar created by Events NSW on behalf of the NSW Government.
Contact
Media contact: Erin Young 02 9368 7277 / 0432 977 529 /
E-mail:eriny@avviso.com.au
Web Site:www.smartlightsydney.com/