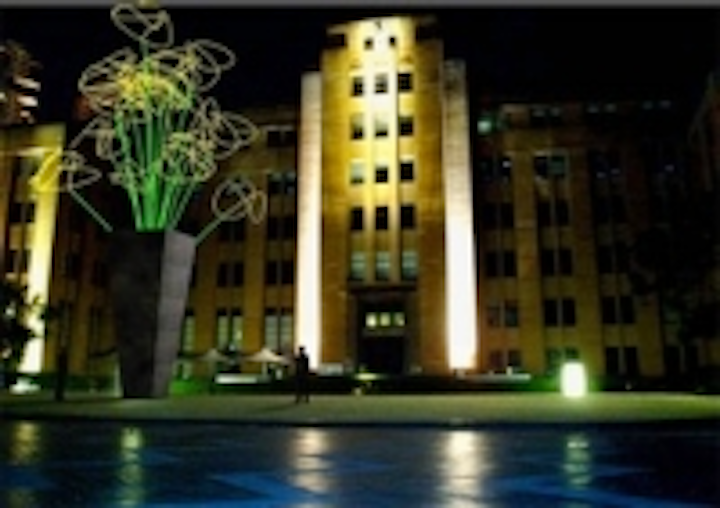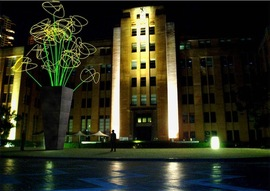 Date Announced: 19 Mar 2009
Sydney locals and visitors will be treated to an amazing array of dynamic light art sculptures this year, when legendary musician and multimedia artist Brian Eno takes part in the inaugural Smart Light Sydney event, part of Vivid Sydney, 26 May – 14 June.
Eno's spectacular lighting display on the Sydney Opera House sails will be a highlight of the Light Walk, a free public walk, showcasing dozens of local and international artists around Sydney's iconic harbour precinct from Sydney Observatory, through the Rocks and Circular Quay to Sydney Opera House, nightly from 6pm to midnight.
The Light Walk will feature dynamic light art sculptures, interactive and performance-based art displays from talented local and international design luminaries including UK designer Alex Haw, Portuguese multi-media experimentalists Carole Purnelle and Nuno Maya, and leading Australian public artists and designers Warren Langley, Ruth McDermott and Tom Barker.
This exciting new event, conceived by Sydney born lighting designer and composer, Founder and Artistic Director Mary-Anne Kyriakou, will also encompass the Art Light exhibition and Smart Light Symposia at UTS and Licht, an orchestral and light art interpretation of composer Stockhausen's work at the Sydney Conservatorium of Music.
"Smart Light Sydney will present new ideas for light art and architectural lighting in city environments through stunning light art sculptures and designs," said Mary-Anne.
"It will inspire memories for the city through the creation of new atmospheres and will engage through its innovative approaches that reduce energy consumption and light wastage and revitalise urban spaces."
Smart Light Sydney is also a partner of the UN International Year of Astronomy 2009, highlighting the need for darker night skies through smart lighting in cities globally, and will celebrate Sydney Observatory's Festival of the Stars to showcase the opportunities for spectacular stargazing thanks to reduced light pollution.
Smart Light Sydney is a cornerstone of the new Vivid Sydney festival created by Events NSW, which will be the biggest international music and light festival in the Southern Hemisphere. Vivid Sydney also features Luminous, a music festival at Sydney Opera House curated by Brian Eno, Fire Water, a free event featuring three nights of flame, food and spectacle in The Rocks and Creative Sydney, a series of creative industry seminars, workshops and performances. Visit www.smartlightsydney.com for more info and for the full Vivid Sydney program visit www.vividsydney.com. Vivid Sydney is one of five anchor events in the first ever NSW Master Events Calendar created by Events NSW on behalf of the NSW Government.
Contact
Media contact: Erin Young 02 9368 7277 / 0432 977 529 / eriny@avviso.com.au
E-mail:eriny@avviso.com.au
Web Site:www.smartlightsydney.com/