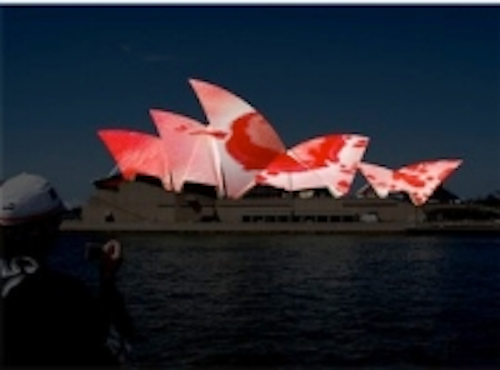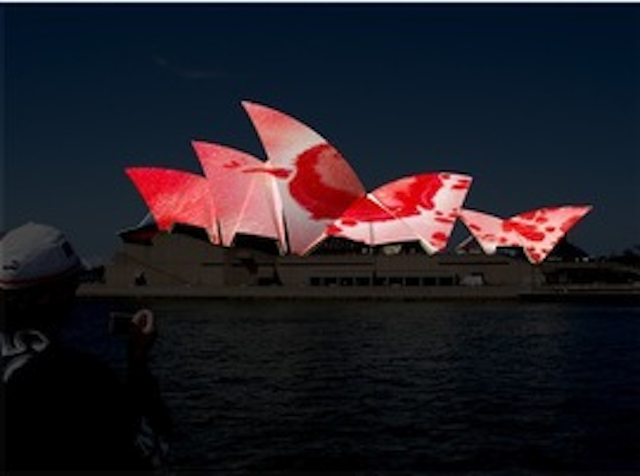 Date Announced: 29 Mar 2009
Smart Light Sydney, a major component of the unique new Vivid Sydney public festival, promises to provide visitors with a range of exciting events and experiences when it takes place, 26 May – 14 June.
With the Vivid Sydney festival set to transform the city into a spectacular canvas of music and light, visitors will enjoy a diverse and engaging program from Smart Light Sydney thanks to partnerships with Sydney Observatory, University of Technology Sydney (UTS) and the Sydney Harbour Foreshore Authority (SHFA).
The Smart Light Sydney program will kick-off with the opening night of the Light Walk on Tuesday 26 May, a free public walk showcasing beautiful and dynamic light art sculptures using innovative, smart technology. The Light Walk will be headlined by legendary artist and musician Brian Eno, who will light the Sydney Opera House sails, alongside dozens of dynamic light art sculptures from leading international and local designers.
Program highlights of Smart Light Sydney include:
Light Walk (26 May – 14 June): This self-guided walk will be the centrepiece of the Smart Light Sydney program, running from Sydney Observatory, through the Rocks, around Circular Quay to Sydney Opera House nightly, 6.00pm – Midnight. The Light Walk will feature sculpture, interactive and performance-based art displays, with Brian Eno's light treatment of Sydney Opera House's sails appearing alongside light art displays from talented artists at the cutting edge of smart design including Portuguese multimedia artists Nuno Maya and Carole Purnelle, Australian public art luminary Warren Langley and UK artist Alex Haw.
Licht (6 June): Merging electronic orchestral music with light-art installations, Licht will present two nights of free entertainment celebrating the work of the controversial German composer Karlheinz Stockhausen. Sydney Conservatorium of Music will be transformed into a world of wonder and discovery as extracts from Stockhausen's most ambitious work are performed live for the first time in Australia. With new electronic sound and lighting displays and an interactive bar, Licht is set to provide free entertainment late into the night.
Smart Light Symposia (27 May, 1,2 & 9 June): UTS will host a series of symposiums for the creative industries, exploring the future of lighting design and innovation. The discussions will draw on the themes of sustainability and innovation associated with Smart Light Sydney, with leading designers and engineers from Australia and overseas presenting on the future of sustainable lighting design.
Art Light Exhibition (26 May – 14 June): Held in the UTS foyer daily until 10.00pm, the free Art Light Exhibition will showcase experimental lighting installations by Australian artists and designers including Bert Bongers, Tom Loveday and Ruth McDermott. Exploring maximum visual impact with minimum energy consumption, there will be no traditional incandescent light sources allowed, just efficient discharge lamps or LEDs and everything will be recyclable.
Festival of the Stars (29 – 30 May): The Festival of the Stars will host two nights of spectacular stargazing on the first weekend of Smart Light Sydney, showcasing the need for darker skies in cities as part of the UN International Year of Astronomy 2009. See the latest in astronomy products, meet astronomers from all over Sydney, experience special 3D theatre presentations and talks, food stalls and entertainment.
Firewater (12 – 14 June): Three nights of flame, food and spectacle in The Rocks, incorporating a free spectacular interpretation of the dramatic burning of convict ship the Three Bees which sank in Sydney Cove in 1814. Stunning wooden fire sculptures and lighting installations will create a warm, magical atmosphere around Campbells Cove, where chefs will rustle up flame-grilled food on outdoor barbeques.
Vivid Sydney is one of five anchor events in the first ever NSW Master Events Calendar created by Events NSW on behalf of the NSW Government.
For a full program or more information on Smart Light Sydney visit www.smartlightsydney.com and for the full Vivid Sydney program visit: www.vividsydney.com
Contact
Media contact: Erin Young 02 9368 7277 / 0432 977 / eriny@avviso.com.au
E-mail:eriny@avviso.com.au
Web Site:www.smartlightsydney.com/