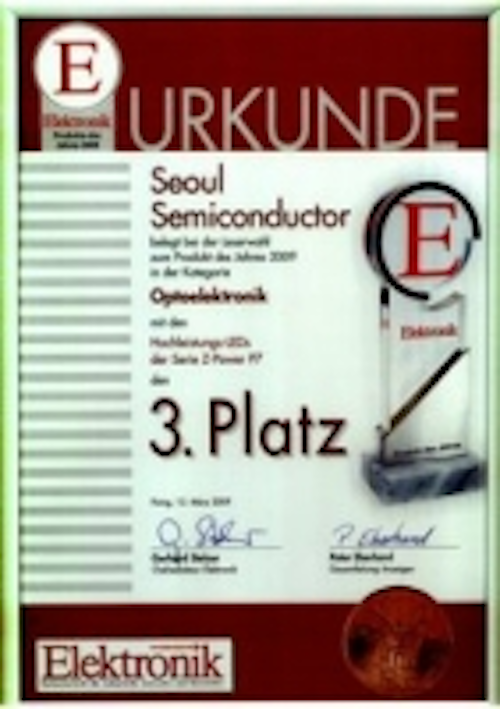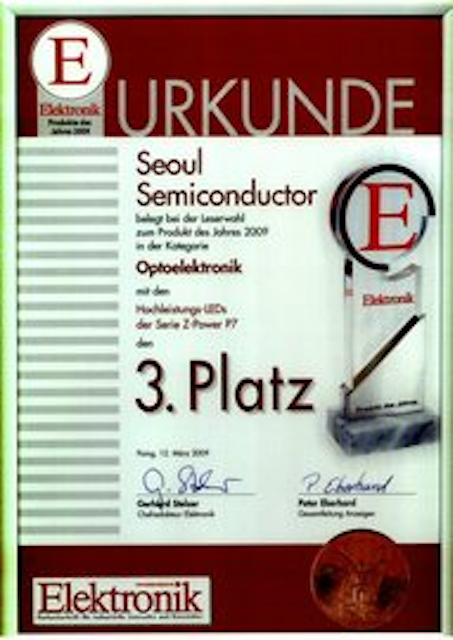 Date Announced: 18 Mar 2009
[EDITOR'S NOTE:
The original title of this press release was "Seoul Semiconductor's P7 awarded '2009 Product of Year' from Elektronik" and the text below is the original text received from Seoul Semiconductor.
However, the award won by Seoul's P7 is for THIRD place in the optoelectronic category of the "Product of the Year" awards. A total of 111 products received awards. SECOND place in the optoelectronic category went to Avago Technologies' 3W High Power LEDs – ASMT-Mx20/-Mx22.]
+++++++++++++
Seoul Semiconductor Co., Ltd. (represented by Chung Hoon Lee, www.acriche.com), a global LED maker, announced that their LED product 'Z-Power LED P7 series' has been awarded '2009 Product of Year' in the optoelectronics part from a German magazine Elektronik '.
Elektronik, an electronic magazine distributed in whole area of Germany, Switzerland and Austria with the highest authority in Europe, selects the most novel and innovative products through questionnaires to about 5,500 engineers and awards the 'Product of Year'.
Also in 2006 and 2008, this company has received that award with their semiconductor light source for AC, Acriche, and Flash LED, and this year, has been awarded again with their 'P7' series.
The awarded 'Z‐Power LED P7 series' is a unique LED package having brightness of 900 lumen and light efficiency of 90 lumen/watt on the world-highest level, being about 36% brighter than incandescent lamps. Also, it emits in all directions of 360°, therefore, differently from fluorescent lamps and incandescent lamps, lighting can be made toward the desired direction only, resulting in little loss of light.
A staff of this company said, "Awards of our products in Korea and overseas countries mean that our technological superiority has been recognized," and "We expect those products will contribute to our sales increase." He added, "We will make more efforts for our technological advancement by keeping the rule of investing 10% in R&D aiming at being one of World Top 3 in 2012."
Seoul Semiconductor, a world leading LED manufacturer, has been named in Forbes and Business Week's lists as one of the most promising Asian companies. Its main offering, the Acriche™ LED, was also named "Product of the Year" by Elektronik in 2006, one of the most prestigious electronics publications in Europe. In 2008, this award was given again to Seoul Semiconductor's Flash LED product. Acriche, developed in 2006, is operated directly through AC current without any converters needed for DC LED operation, extending the LED's life span and making installation costs easier and less expensive.
With these important benefits, Acriche LED technology is expected to pioneer the future of the lighting industry. With its cutting-edge technology, Acriche has been awarded in Newtech Korea 2008 and named as Korea Ten Best New Technologies of 2008. Seoul Semiconductor's primary business areas are LED packaging and custom module manufacturing. It provides a full range of LED products including AC-driven semiconductor light sources, Acriche brand products, High-Brightness-Power products, Side-View LEDs, Top LEDs, Chip LEDs, Lamp products, High-Flux LEDs, and custom-type modules. Applications for the company's LED products include general lighting, signage, back lighting for mobile phones, TVs, notebook computers, automotive lighting, home appliances, signals, etc. Seoul Semiconductor reported KRW 284b in sales in 2008. It filed and registered over 5,000. Seoul Semiconductor has 25 branches including 3 overseas corporate offices. Its products are also represented by more than 114 worldwide distributors.
Contact
Hyesun Paek Marketing PR Manager (in Korea)
E-mail:s1u0n0@acriche.com
Web Site:www.acriche.com