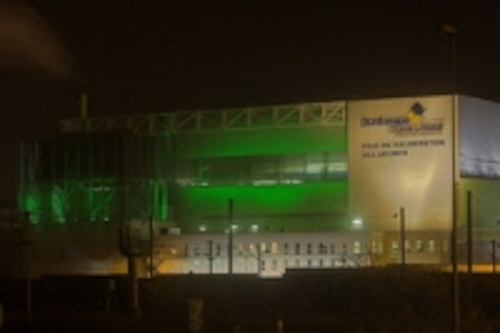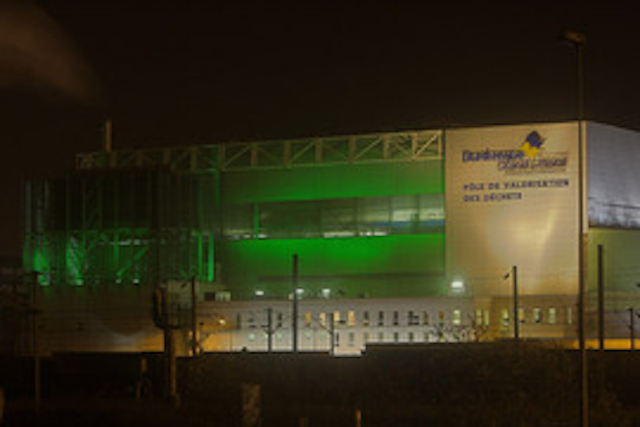 Date Announced: 17 Mar 2009
Waste disposal plants are generally prosaic and functional buildings, but there is always room for being innovative!
That's exactly how the lateral thinking members at the Dunkerque City Council in France were thinking when they decided that their local Dunkerque Littoral Pole de Valorisation des Dechets could benefit from some beautification in the form of an architectural lighting scheme.
Locally based electrical contractors SET Space Tertiaire were approached to come up with a plan and a specification. They immediately knew that Anolis LED products would provide the perfect solution.
These were supplied by Anolis's French distributor Ambiance Lumière. SET has used Anolis on a number of other projects. They are impressed with the performance and think it is the most robust, brightest and best value LED option currently available.
Seventeen Anolis ArcLine Outdoor Optic 36 strips are utilised, fitted to one side of the building that faces the busy A16 Dunkerque to Paris highway. An additional issue was that the installation should be eye-catching but yet not too distracting to passing motorists, so this also had to be inherent in the design!
The fixtures are arranged in 2 rows - to maximize coverage - in the middle of the vast north facade of the plant, which is 37 metres high, transforming its grey slab-like appearance into a lively and interesting colour changing after-dark feature.
Powered by Anolis ArcPower 72 drivers, they are switched on and off via a pre-programmed Sunlight Easy Stand Alone controller, which has different sequence options, the default one being a slow colour changing chase that bathes the Pole de Valorisation des Dechets in a series of rich colour variations as it steps through.
Using 36 of the latest high powered Luxeon K2 LEDs along with other quality components, and engineered to the highest standards, the IP 65 rated ArcLine Outdoor Optic 36 was a hugely flexible choice of fixture for the application.
Apart from its reliability, long life and low maintenance, the team from SET Space Tertiaire wanted to present an environmentally friendly, low energy, carbon-conscious lighting scheme – which was another reason for following the LED route.
The ArcLine Outdoor Optic 36s are convection cooled and housed in a rugged aluminium extrusion. They can deal with any type of weather extremities, another vital consideration for their exposed position at the Pole de Valorisation des Dechets.
"Everyone is really happy with the results and Anolis once again has proved ideal for a challenging situation and made the building much more attractive," says Ambiance Lumière's Patrice Vandenbussche. The lighting has already become a talking point among the locals and it's creating a beacon of fascination for anyone driving past.
Contact
Louise Stickland Ph: +44 (0)1865 202679
E-mail:louise@loosplat.com
Web Site:www.anolis.eu