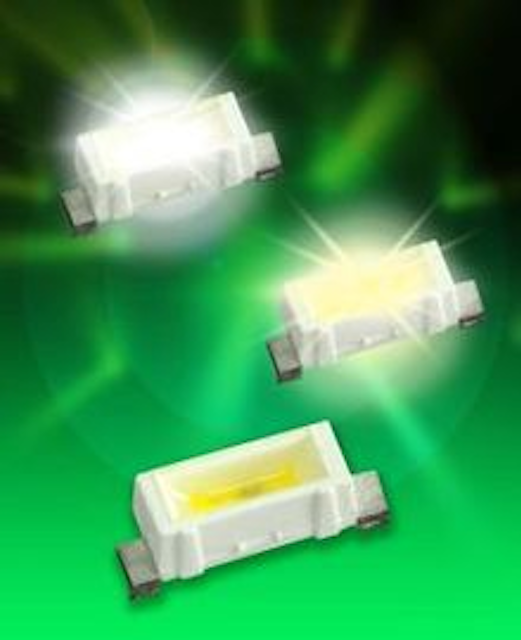 Date Announced: 26 Mar 2009
DOMINANT introduces a new high intensity white (DSW-NSG) and warm white (DSF-NSG) of its Right Angle DomiLED series, replacing the existing DSW-USD device and completing their product portfolio of low power white LEDs for sideway illumination. With an operating current of only 20mA, this LED features a luminous intensity of 1200mcd (typical) for white and 1000mcd (typical) for warm white.
The new white Right Angle DomiLED provides an outstanding long product lifetime due to its silicone encapsulation and low thermal resistance of the housing, turning it into the most durable product in a side view package. In terms of design and dimensions, the package is the same as their other Right Angle DomiLEDs (4.2(L) x 1.2 (W) x 1.3(H) mm).
The new white Right Angle DomiLED fulfills the stringent requirements of the automotive industry and is also a perfect fit for various sideway illumination applications where space is limited such as backlighting of cellular phone displays and keypads, backlighting LCDs for PDAs, digital camera, signal and channel lighting.
Engineering samples are available whereas mass-production starts by mid of April 2009 for white color and mid of May 2009 for the warm white version.
About DOMINANT Semiconductors
DOMINANT Semiconductors Sdn. Bhd. is a dynamic Malaysian company belonging to the world leading SMT LED manufacturers. It has an excellence driven organization and offers a comprehensive product range for all kind of lighting applications needed in the automotive, consumer, communications and industrial market segments. With extensive industry experience and relentless pursuit of achieving the highest quality combined with a state-of-art manufacturing, innovation, research and testing capabilities DOMINANT have become a trusted and reliable brand across the globe.
Contact
Marketing Communication Tel: +60 (6) 2833566 Fax: +60 (6) 2830566
E-mail:sales@dominant-semi.com
Web Site:www.dominant-semi.com