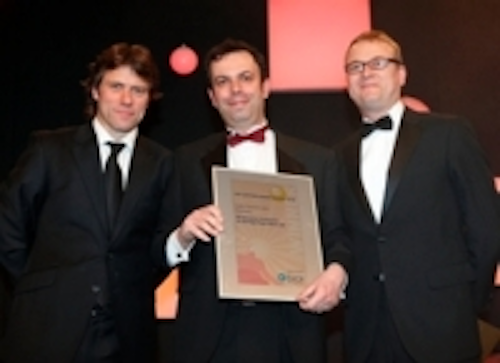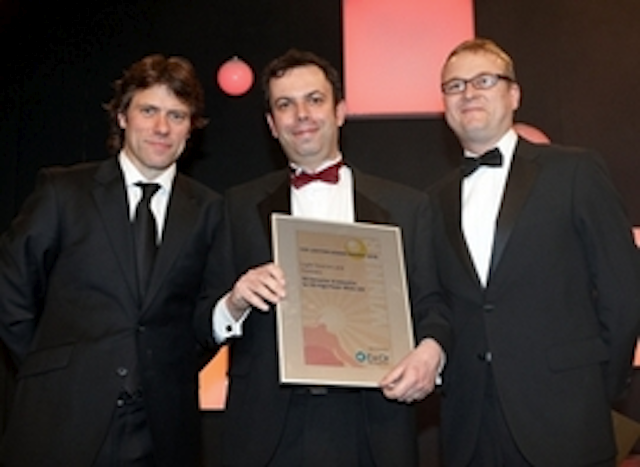 Date Announced: 17 Mar 2009
St Albans, UK – GE Lighting's Vio high power white LEDs were announced the winner of the Lighting Design Awards in the Light Sources and Controls category, sponsored by Ex-Or. The Vio won the award for what judges described as a "major advance in color stability".
GE Lighting's highest power, white LED yet, the Vio 7.2, also available in 1.2W and 3.6W, provides industry leading light quality and stability with light outputs of up to 350 lumens. Combining GE's proprietary violet-chip with remote multi-phosphor technology, the Vio provides more stable colour than regular blue chip/yellow phosphor LED technology with low part-to-part colour variation. Plus it is diffused for a pleasing, more uniform light similar to a soft white incandescent lamp.
Receiving the award, GE Lighting's product manager for solid state lighting, Andy Davies, said; "We are thrilled that the Vio has been recognised as best in class at the Lighting Design Awards. This prestigious award demonstrates that the Vio truly is the best available high power LED on the market and is valuable recognition of GE's commitment to bringing innovative top quality products to market."
GE Lighting's Vio LEDs were the first of their kind to utilise remote phosphor technology. Combining violet chips with phosphors applied to the hemispherical lens of the LED, radiation is converted directly to white light without colour mixing. Vio LEDs are available in 3000K, 3500K and 4100K colour temperatures and can be used in many standard fixtures designed for general illumination applications. Vio LEDs provide high efficiency at warmer colour temperatures, as well as flexible colour temperature and colour rendering options making them a viable, energy efficient alternative to traditional light sources.
Potential applications for the Vio LED are many and varied, and can include retail, hotel, high-end residential and other commercial applications.. Additional product benefits include:
- 50,000 hour rated life to 70 per cent lumen maintenance
- Up to 58 lumens per Watt
- Less than 75K in colour change over 50,000 hour rated life
- Chip-on-board package in a design which allows improved thermal management
- Plug-and-play connection for manufacturing simplicity (no soldering required)
- Easy to use board temperature measuring point – no complex junction temperatures to measure
- Mercury-free and RoHS compliant
About GE Lighting
General Electric was born from the invention of the world's first affordable incandescent lamp. A century later, GE Lighting is still bringing light to the world, developing new technologies such as fluorescents and light-emitting diodes, that operate with more efficiency, less cost and less environmental impact than ever before.
GE Lighting is part of GE Consumer & Industrial, a $12+ billion global business with 49,000 employees in more than 100 locations. With more than a century of experience inventing cutting-edge products and services, GE Consumer & Industrial strives to make life better, more convenient and more efficient for consumers, as well as commercial and industrial customers.
Photo: GE's Product Manager, Solid State Lighting, Andy Davies, collects the award
Contact
Magdalen Bush, Eloqui PR Ph: +44 (0) 207 7534 0624
E-mail:mbush@eloquipr.co.uk