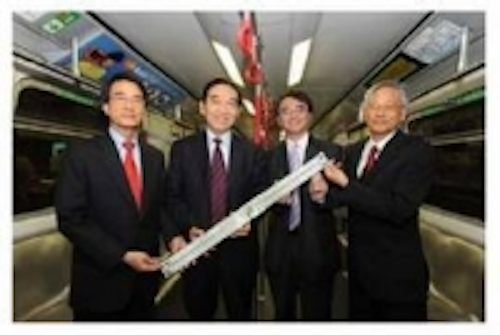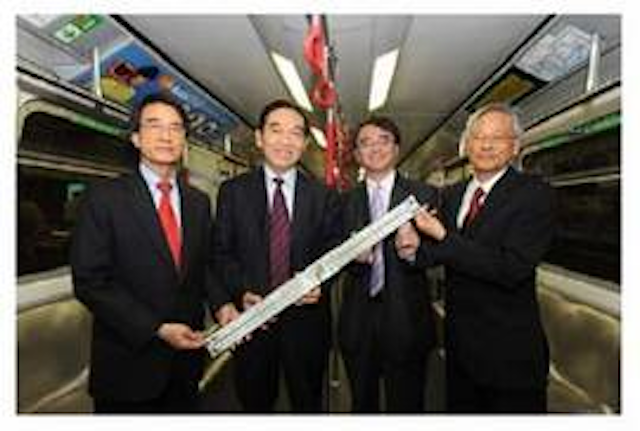 Date Announced: 18 Mar 2009
The MTR (Mass Transit Railway) Corporation of Hong Kong is expanding a trial of environmentally-friendly and energy-efficient high brightness LED lights on board trains and in stations as part of its commitment to sustainability and environmental excellence.
[Image caption: (left) Professor Paul Chu, President of The Hong Kong University of Science and Technology; (center left) Zhang Zheng-Gui, Chairman of Jiuzhou Electric Group, (center right) Jacob Kam, Head of Operations Engineering of the MTR Corporation; (right) Philip Chan, HKUST's Dean of Engineering, celebrate the start of the extended trial of HB-LEDs in MTR trains and stations.]
"While these new lights are environmentally-friendly and use less energy, they have other benefits as well," said Jacob Kam, Head of Operations Engineering at the MTR Corporation. "This LED light resembles natural light and will provide an enhanced traveling environment for passengers, especially for those reading books and newspapers."
HB-LEDs were first installed for trial in one MTR train compartment in 2006. Although positive feedback was received from passengers, there was room for improvement in the efficiency, reliability and light colour. "With advances in the technology, the efficiency and reliability of HB-LEDs are able to meet our service requirements," added Kam.
As a result, The MTR Corporation has been able to further refine the application of HB-LEDs for its trains in a joint venture with industrial lighting specialist Jiuzhou Optoelectronics Co. Ltd (Jiuzhou Electric Group), which received expert technical input from the Hong Kong University of Science and Technology (HKUST). The improved design features enhanced reliability and lighting which more closely resemble the color of natural daylight.
Lighting fixtures, each made up of 64 individual HB-LED chips, were installed on three MTR trains, with the first train beginning operation on the Tsuen Wan Line. The other two trains will be put into service by June 2009.
Jiuzhou Optoelectronics undertook most of the project work, including detail project plans, thermal and optical designs, LED lighting apparatus designs, apparatus anti-vibration designs, LED drive-circuit designs and even installation of the LED apparatus on the train.
In addition, Jiuzhou Optoelectronics will be testing the use of HB-LEDs for the first time in stations. The technology is being adapted to provide everyday lighting in a trial at MTR Choi Hung Station. Installation work is expected to be completed by August 2009.
It is estimated that the new HB-LEDs will consume 30% less electricity than traditional fluorescent lights and have a useful life of 50,000 hours, which is three times longer than traditional fluorescent lighting, resulting in less waste. In addition, when an HB-LED chip fails, it can be replaced individually, thus reducing waste even more.
Contact
Kitty He, Marketing Department Sichuan Jiuzhou Electric Group Co., Ltd. Tel: +86-755-26947000-7236 Fax: +86-755-26715408
E-mail:hxymar@jiuzhou.com.cn
Web Site:www.jiuzhou.com.cn