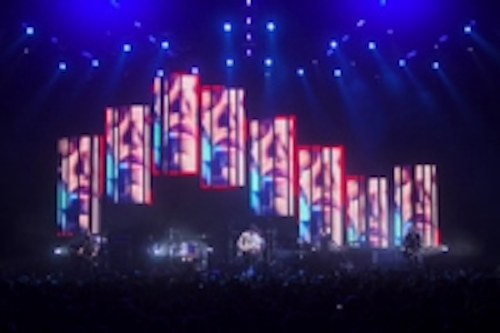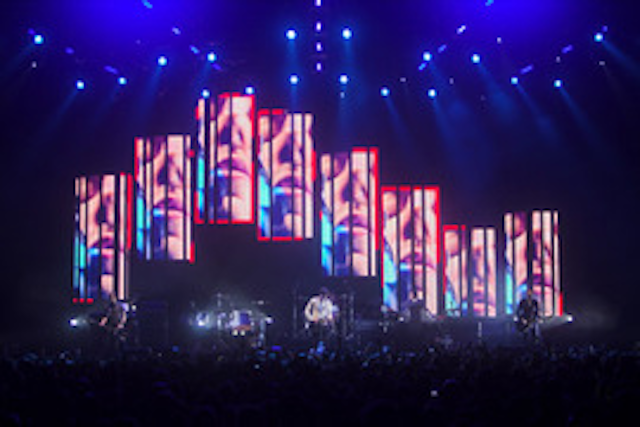 Date Announced: 16 Mar 2009
XL Video UK in conjunction with Blink TV is supplying LED screen, digital lighting, projection, cameras, control and crew for the incredibly pictorially vivid show that is Snow Patrol's "One Hundred Million Suns" world tour, currently in the UK and Europe.
The tour is the first in the world to feature Barco's DLM 1200 digital moving lights, of which XL has supplied four.
The show's intense and fluid visuality results from some serious creative chemistry between live video director Blue Leach (winner of the 2009 TPi Award for Video Director of the Year) who is cutting the IMAG mix, lighting designer Davy Sherwin and live visuals director Robin Haddow.
It's Leach's second Snow Patrol tour, "Davy and Robin are really into a fully integrated workflow that unites all departments, and I am very much of that same mindset, so it's a complete joy to be on this," he states.
This modus operandi brings huge vitality and flair to the equation, producing an environment where everyone can be experimental, innovative and daring. Once Sherwin had the initial lighting scenes programmed for each song, he rendered his ESP Vision visualiser files as QuickTime movies and sent them to Leach so he could think about matching and contrasting IMAG cues to the lighting for each song. Throughout the process, a harmonious balance was maintained between the mediums, with stunning results that see screens strobing, flashing and changing image along with lights, with colour treatments overlaid on the video, etc.
XL Video's project managers Phil Mercer and Jo Beirne comment, "You know when Blue is involved it's going to look interesting and different. The way he, Davy and Robin have developed the 'bigger picture' is the result of fervent imagination and crafting".
XL supplied 8 columns of Barco O-Lite LED screen each measuring 13.5 ft high. Additional dynamics include these being rigged on 16 points of a Kinesys automation system, allowing the screen to split into a myriad of different formations and move up and down, bringing numerous structural options – from fragmentation to super-geometry to the performance space. The movement cues also allow lights upstage of the screen to be blasted through.
There are 4 of XL's Sony D35 operated cameras – two on track-and-dolly in the pit, one hand-held onstage and one with long lens at FOH - plus 2 robo-cams in the roof trusses. Five mini-cams dotted all over the stage are used very specifically, with another one beside Leach at his FOH mix position – for grabbing and improvising!
He mixes with a GV Kayak switcher. It was a no-brainer that FOH would be the best position for this - as he needed to be in close proximity to Sherwin and Haddow rather than concealed in some dark under-stage corner!
He has 2 Xander flat screen preview monitors instead of a bank of 9" screens, making a neat, tidy and expedient footprint, and is also using a Medialon touch screen system to add effects quickly and easily onto the camera feeds. Four of these are then sent to Haddow for outputting to the O-lite screen or to any or all of 4 Barco DML 1200 digital moving lights via 3 Catalyst digital media servers – also supplied by XL.
A spectacular end-of-show gag comes in the form of a specially commissioned 16 minute animated mini-movie produced by Splinter films, who developed a treatment received from Leach based on original ideas from lead singer Gary Lightbody. This accompanies the 3 part song "The Lightening Strikes" and is projected sequentially onto 2 trevira cloth surfaces that are kabuki'd in – one off the front truss and one right upstage - and also onto the O-lite.
The projection system for this – and for a short Etch-o-graph style show intro - is a doubled up pair of Barco FLM 20s stationed at FOH, and the movie – along with all the other playback footage used in the show, is stored in the Catalysts.
Some of the camera feeds sent to Haddow are pre-treated by Leach and some are manipulated in the Catalyst – before Haddow sends to the designated destination. The DML 1200s are used at certain points to project video and images around the arena or onto the audience and more unusual and unexpected places.
Six days of production rehearsals at Wembley Arena produced some long days for Leach, Sherwin and Haddow as they worked the show into shape, an operation also involving Kinesys operator Rupert Reynolds from lighting contractors HSL.
XL's crew includes engineer Gerry Corry, LED tech and camera operator Al Bolland, projectionist and camera operator Dave Rogers, ped camera operator Darren Montague, hand-held operator Jamie Cowlin and screen tech Graham Vinall.
Contact
Louise Stickland Ph: +44 (0)1865 202679 or XL Video UK direct Ph: +44 (0)1442 849400
E-mail:louise@loosplat.com
Web Site:www.xlvideo.tv