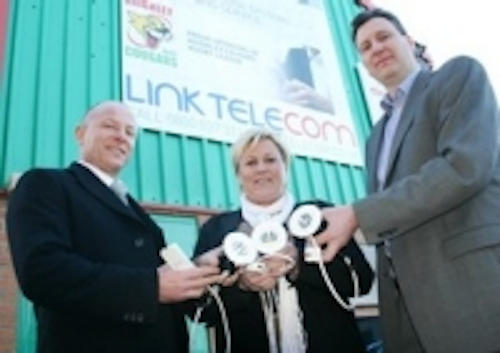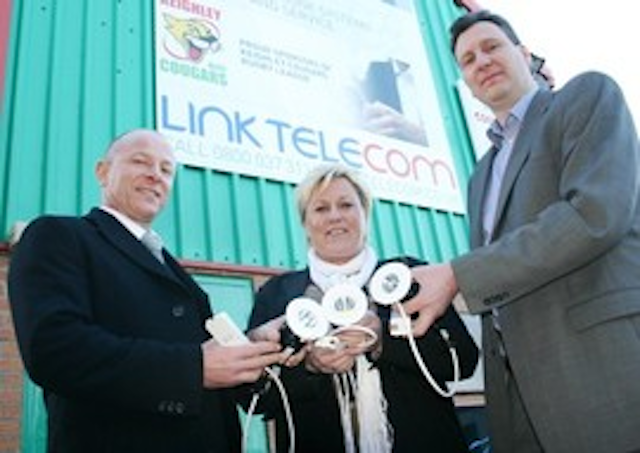 Date Announced: 26 Mar 2009
High Technology Lighting has teamed up with Keighley Cougars RLFC on a flagship government-funded sustainable technology research project that has the potential to drastically reduce energy usage across the UK.
[Pic caption: High Technology Lighting's Graham Kemp is pictured right with Keighley Cougars Helen Carter and Link Telecom's Gary Fawcett.]
The Leeds-based lighting design specialist has been chosen as the lighting industry's representative on a project to develop world-leading ecologically sound lighting practice across the UK construction sector.
High Technology Lighting chose Cougar Park – home of the Co-operative Championship 1 side - as one of ten high-profile sites across the country in which to install new LED lighting technology.
A total of 26 low-energy LED lights, valued at over £2,000, have been mounted in the club's Diamond Suite, lobby and stairwell of the main stand. Extensive end-user validation trials will now be conducted over an 18-month period.
The results will then be submitted to the School of the Built Environment at the University of Salford, the UK's premier school in its field, with whom High Technology Lighting is working in partnership to develop prototype LED luminaries through the research project.
High Technology Lighting joint managing director Graham Kemp explained: "The whole focus of this important initiative is on replacing low voltage halogen lighting, where energy usage is very high, with LED lighting products, which use much less energy and also have a far longer life.
"Cougar Park was identified as an ideal sports and social environment for the project. We will evaluate the performance and visual impact of the new installation, as well as the significant costs savings that will be achieved.
"Energy consumption will be cut dramatically, with anticipated savings of 55% on current lighting costs. In addition, LED lighting has 50,000hrs rated life, with all products carrying a five-year guarantee - far more than traditional lighting, so there are also major additional environmental benefits."
Cougars' general manager Helen Carter said: "I am delighted that High Technology Lighting has chosen us to take part in the flagship project. The Cougars are passionate about reducing our carbon footprint wherever possible, so it makes for a perfect partnership."
High Technology Lighting was introduced to Keighley Cougars by one its business partners, Gary Fawcett, chief executive of Keighley-based mobile communications group Link Telecom.
Other installation locations chosen by High Technology Lighting as part of the project are London's Blue Water Shopping Centre (24 LED lights in a new £1m WC block refurbishment), Nike store, Blue Water (4 lights in-store), Portavadie Marina on the west coast of Scotland (22 lights in the bar area and on external pontoon walkways), Guildford Health Centre (10 lights in internal common areas), Sunderland Museum (the first track-mounted solution), Manchester International Airport (13 lights in the Olympic House reception area), Nuneaton Hospital (8 lights over ward reception) and South Ayrshire Council (6 lights in head office).
Background information: High Technology Lighting has been awarded a major grant for the industry-academia collaborative 12-month project. It is being funded by The Construction Knowledge Exchange (CKE), established by the government in 2004 to promote links and collaboration between higher education and the construction sector.
The research programme has attracted £160,000 worth of innovation grants to pump-prime a number of development projects involving higher education providers, employers, relevant sector Skills Councils and other appropriate private sector partners.
Salford University's School of the Built Environment is a member of The Research Institute for the Built and Human Environment (BuHu) and is the only built environment research group in the UK to hold the government's highest six-star rating for research excellence.
High Technology Lighting already holds established business-education partnerships, notably through its annual Enlighten Design Competition, which is open to students in the School of Architecture, Landscape and Design at Leeds Metropolitan University and seeks to identify new, low energy LED lighting solutions.Chris Bromfield, winner of the 2008 competition, is now working full time for High Technology Lighting and will have a major involvement in designing the luminaires to be used in the research programme.
Contact
Robin Moule Moule Media Ph: 01756-794027
E-mail:robin@moulemedia.com
Web Site:www.hightechnologylighting.com