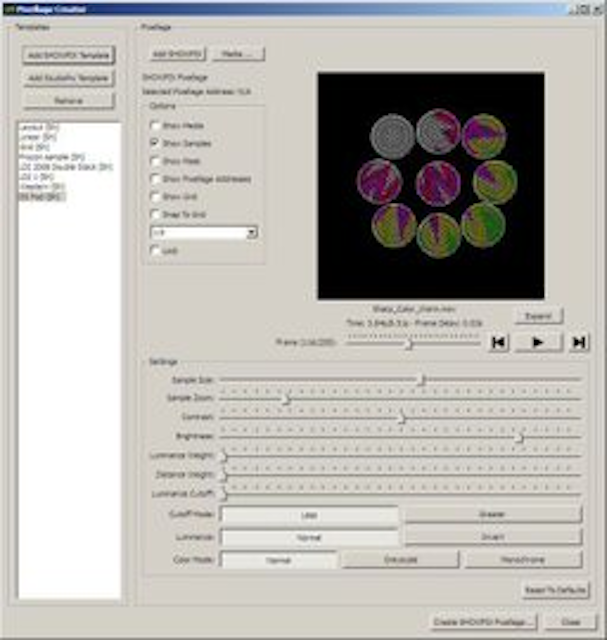 Date Announced: 09 Mar 2009
-- With the ability to display a single image across multiple fixtures, Pixellage™ adds a new creative dimension to multi-LED luminaire events.
Rancho Cordova, CA —— Barco, a global leader in video and lighting solutions, today announces the release of Pixellage, a new software feature for two High End Systems' Pixelation Luminaires. This feature allows the SHOWPIX™ and StudioPix™ luminaires to display one image across multiple fixtures, providing an eye-catching stage presence, especially on television and for outdoor daytime events. The SHOWPIX and StudioPix luminaires are hybrid LED wash lights and graphic image display fixtures.
When Pixellage is used in conjunction with the latest version of High End Systems' Echo™ software, users can easily divide a single piece of content into discrete files and assign each portion to different fixtures for output. This interactive process uses templates, alignment tools and media manipulation functions to provide lighting professionals with the power to create striking imagery across multiple fixtures. The procedure is streamlined with a familiar user interface and simple controls. Once created, the individual files are uploaded to the fixtures and are then ready for playback to create one combined image.
"The Pixellage feature brings the power and flexibility to the Pixelation Luminaire family that the Collage Generator feature brought to the digital lighting family," noted Chris Colpaert, VP Creative Lighting. "It's a remarkably creative addition to the lighting professional's toolbox."
The Pixellage feature, which previewed at the LDI 2008 trade show in Las Vegas, is now available for download on the Barco website and from www.highend.com/support/led
About Barco
Barco, a global technology company, designs and develops visualization products for a variety of selected professional markets. Barco has its own facilities for Sales & Marketing, Customer Support, R&D and Manufacturing in Europe, North America and Asia Pacific. Barco (NYSE Euronext Brussels: BAR) is active in more than 90 countries with about 3500 employees worldwide. Barco posted sales of 725 million euro in 2008.
Contact
Nancy Xiao, Press & PR Manager APAC Phone:+86 10 8012 0885 nancy.xiao@barco.com Sophie Hautekeete, Press & PR Officer EMEA Phone:+32 56 36 80 59 sophie.hautekeete@barco.com Johanna Ocampo, Press & PR Specialist North America Phone:+1 916 273 5301
E-mail:johanna.ocampo@barco.com
Web Site:www.barco.com