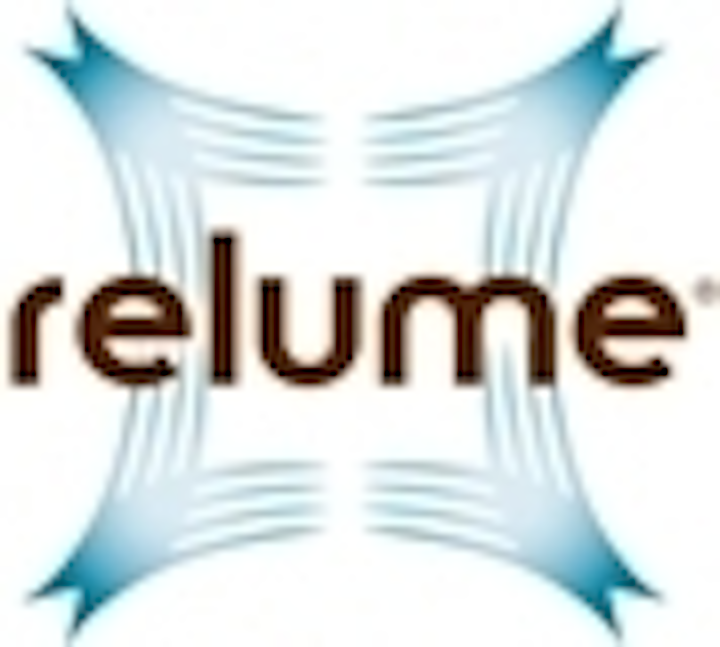 Date Announced: 20 Feb 2012
Oxford, Mich. – Relume Technologies, a leading manufacturer of light-emitting diode (LED) products and smart grid control systems for outdoor lighting applications, has announced the launch of its Plus Seven family of LED lighting for general purpose outdoor applications.
The Plus Seven product line is backed by the company's market-leading seven year product warranty and includes wall pack, flood, area and vandal-resistant LED fixtures that are easy to install and provide uniform light distribution. The housing is made from rugged die-cast aluminum with a maintenance-free finish. In addition, each fixture is wet location listed.
Relume's LED luminaries feature superior thermal management and low LED junction temperatures – key to long LED life.
"What sets Relume apart from other LED lighting manufacturers is the seven year warranty behind our products. Each fixture in the Plus Seven launch has been engineered to surpass our vigorous testing, ensuring our LED luminaries are some of the most reliable and long lasting in the industry," said Crawford Lipsey, CEO for Relume.
Lipsey detailed Relume's Plus Seven fixture categories:
•Wall pack fixtures are ideal for lighting building facades, storage areas, entrances, corridors and other pedestrian areas. Relume offers seven types of wall pack fixtures for high lumen output, standard lumen output and cut-off applications.
•Floodlighting fixtures are ideal for sign illumination, wall washing, façade lighting or accentuating details. Relume offers two types of flood area fixtures which feature housing that swivels from 0° to 30°.
•Vandal-resistant fixtures are ideal for lighting under canopies or covered areas where safety and security are a concern. Relume offers one type of vandal-resistant fixture that fits most rough-service wall or ceiling mount applications.
•Area lighting fixtures are ideal for streets, walkways, parking lots, car lots and surrounding areas. Relume offers two types of area fixtures.
Relume's LED luminaries lower energy consumption by as much as 40 percent and last up to six times longer than conventional lighting solutions. The substantial savings in reduced energy and maintenance costs results in an average payback on investment of less than four years.
About Relume Technologies
Relume Technologies is a Mich.-based manufacturer of highly efficient, environmentally friendly, and cost effective LED lighting products and control systems. The company's innovative technology is used in municipal lighting, commercial signage, outdoor advertising, transportation, and U.S. military applications. Relume's products are American-made, ISO 9001:2008 certified and carry an industry leading seven year warranty.
Relume is a founding member of the Michigan Solid State Lighting Association, and supports the organization's mission of ensuring that Michigan is a global leader in solid-state lighting, research and development, and manufacturing. Relume was recently recognized as one of Michigan's 50 Companies to Watch by the Edward Lowe Foundation. For more information, visit www.relume.com.
Contact
Curt McIntosh Relume Technologies Phone: +1.248.969.3800
E-mail:ajenkins@beringea.com
Web Site:www.relume.com