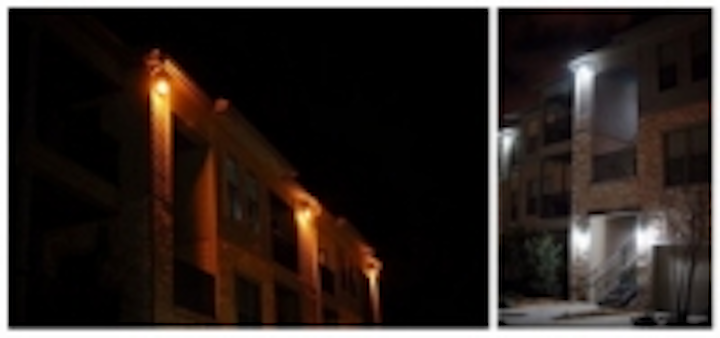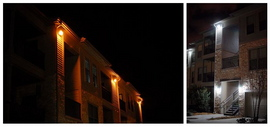 Date Announced: 02 Feb 2012
Amesbury Companies upscale Tuscany Apartments located in Baton Rouge, Louisiana recently completed a conversion to exterior LED lighting for the entire complex. Amesbury used LED lighting sourced from Louisiana manufacturer LA LED, headquartered in Lafayette, Louisiana.
Kurt Miller, VP, Facilities & Construction offered the following comments, "Using LA LED manufactured bulbs we were able to take the entire project from 2160 watts to 616 watts, a total electrical savings of 71.5%. This conversion not only reduced our energy costs but has resulted in significant savings for the project.
"Equally important is the fact that within two weeks of replacement, the entire unit sold out. It's obvious to us that better lighting of parking areas and walkways increases perceived and actual safety of tenants and visitors. We are more than pleased with the results and highly recommend LA LED manufactured bulbs in public areas."
Robert Owens, LA LED President, added, "LED light bulbs can easily last up to 50,000 Hours, run cool, and they don't 'burn out' like common light bulbs. There is no safer, more cost effective method to increase savings while generating clean, safe energy.
"The installation for Tuscany reduced their bill for this conversion by 71.5% of the changed lighting. We retro fitted 175 MH wall packs with 26w LED bulbs (PL24). We retro fitted 32w CFL with 6w LED bulbs and 44w CFL with 13 w LED (PL 360). LED lighting consumes 40 – 80% less energy. Unlike halogens, LED are solid state devices that convert 90% of their usable energy into light with only 10% residual heat conversion."
Contact
For more information contact LA LED at 888-347-9295.
E-mail:info@laledus.com
Web Site:www.laledus.com