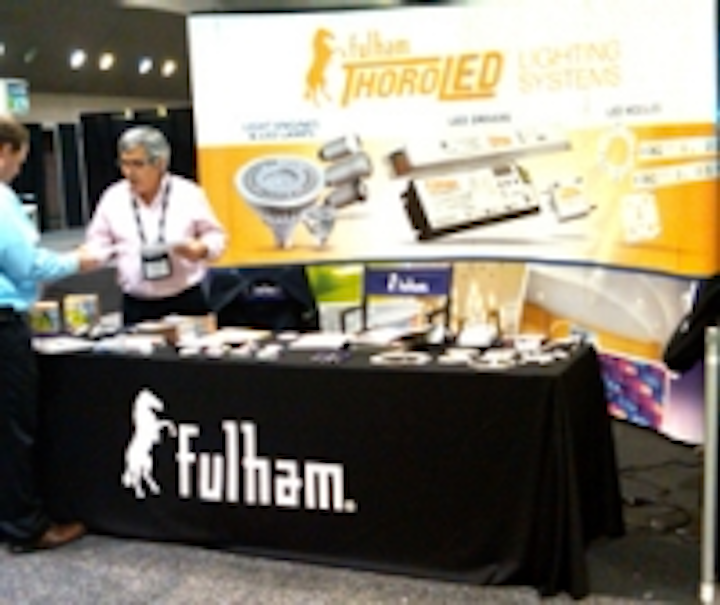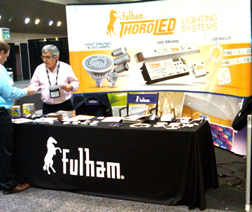 Date Announced: 27 Feb 2012
February 7th through February 9th found Dr. Michael Bremser, Fulham Vice President & Program Manager for LED, and several members of the Fulham team at the Santa Clara Convention Center for the annual Strategies in Light (SIL) LED conference and exhibition.
Of most recent introduction were Fulham's DALI and DMX protocol LED drivers used in applications requiring digitally controlled lighting from theatres to large office buildings. Also featured at the show were Fulham's extensive line of constant current and constant voltage LED drivers, LED modules, LED MR16 and PAR lamps, light engines, and their exclusive LED emergency lighting system (HotSpot).
Fulham's Light Engine Application Program (L.E.A.P.) was unveiled as an engineering service to assist clients in converting existing non-LED fixtures to modern LED technology. Fulham's solutions include a host of engineered module and driver pairings to properly upgrade to LED many fixture types including ceiling, wall sconces, down-lights, task lighting and others.
Contact
Jay Matsueda Director of Marketing Fulham Co., Inc. http://www.fulham.com YouTube video about HotSpot LED emergency lighting system: http://www.youtube.com/watch?v=RakXJF9G7xA
E-mail:updates@fulham.com
Web Site:www.fulham.com