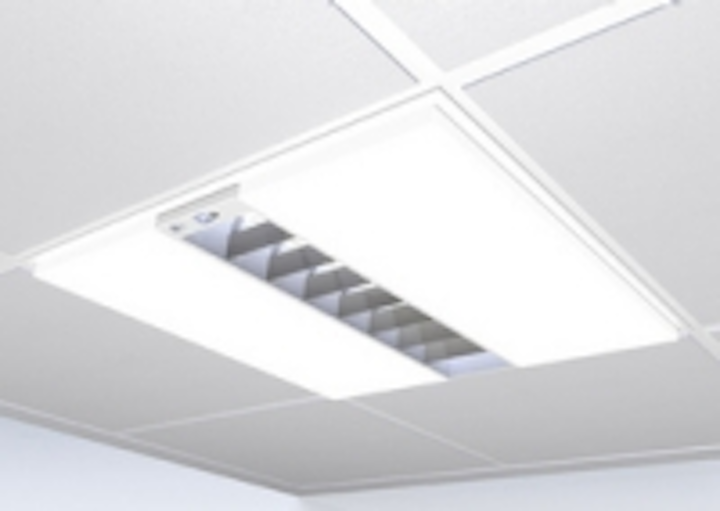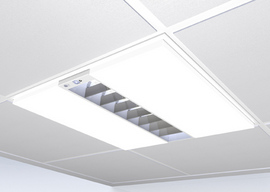 Date Announced: 16 Feb 2012
Cooper Lighting and Safety, a leading manufacturer of mains and emergency lighting solutions for commercial and industrial applications, has launched a new 600 x 600mm recessed luminaire that combines contemporary aesthetics with the latest T5 fluorescent and LED technology to create a versatile fitting for use in modular suspended ceilings.
Known as Lechenti, the new luminaire is available in fully recessed or semi-recessed formats and is suitable for lay-in or draw-up installations. Opalised side panels made from TPa-rated polycarbonate provide controlled light distribution with excellent transmission and diffused lamp image. In conjunction with the central louvre or microprism panel option, this optical design delivers high efficacy and aids compliance with Part L and LG7 requirements.
Emergency versions of the luminaire feature an integral LED with purpose-designed lens, which achieves exceptionally good light distribution in excess of 10m x 10m and reduces the total number of emergency fittings needed. Providing a minimum duration of 3 hours, the emergency versions can incorporate self-test functionality if required.
Lechenti offers outstanding performance with an LOR (light output ratio) in excess of 80 percent and an efficacy of more than 60 L lm/cW for many variants, making them eligible for Enhanced Capital Allowances. Offering a choice of 3 x 14W or 4 x 14W configurations with high-frequency control gear as standard, the luminaire can be specified with optional DALI or DSI dimming facilities as well as integrated lighting controls to maximise energy savings and user comfort.
Contact
Tel: +44 (0)1302 303200
E-mail:info@cooper-ls.com
Web Site:www.cooper-ls.com