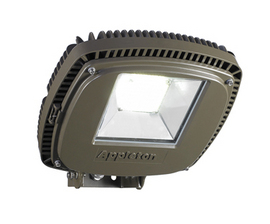 Date Announced: 23 Feb 2012
-- Industry's Highest Lumen Per Watt LED Floodlight/Highbay
ROSEMONT, IL -- By introducing its new Areamaster LED luminaire, Appleton has re-invented the floodlight category with a fixture offering the industry's highest lumens-per-watt output, superior color rendering, and a service life of more than 60,000 hours.
Inheriting the corrosion-resistant protection of the original Areamaster yet weighing less than half its weight with a much smaller footprint, this completely redesigned luminaire is an energy-saving solution targeted for adverse and hazardous locations (Class I Div.2.). Suggested applications include petrochemical plants, pulp and paper mills, sewage treatment centers, and marinas, as well as outdoor areas such as parking lots or public spaces where rough weather is a problem.
The Areamaster LED is versatile with a universal design for flood or high-bay mounting, making it ideal for replacing virtually any HID, fluorescent or incandescent fixture. Rated at 127 watts, it delivers an optimal 13,000+ lumens of cool white light in a 131 degree (horizontal) x 134 degree (vertical) beam spread - exceptionally wide for a fixture measuring only 15-inchs square. Moreover, its highly directional light does not require the use of external optics, resulting in system efficiencies as high as 80 percent. A standard HID lamp offers only 40 percent efficiency since its light can only be controlled using a reflector or refractor. The Areamaster LED has a corrected color temperature of 5650K resulting in a cool white hue and an impressive Color Rendering Index (CRI) rating of 70. This compares favorably to the 62 CRI rating for a pulse start metal halide or the 22 CRI rating of a high-pressure sodium lamp.
Steve Henry, Senior Marketing Manager, Appleton, commented on the introduction: "Anyone challenged to find an LED-driven floodlight to meet energy reduction goals will welcome the arrival of our Areamaster LED. We have taken the original Areamaster to a new level by incorporating state-of-the-art LED technology that drastically reduces energy consumption, while providing superior installation, maintenance and environmental benefits."
The AreaMaster LED features a one-piece die-cast aluminum housing. It is enclosed and gasketed with a single piece of formed silicone rubber that eliminates the need for splicing that could potentially lead to vapor or dust ingress. An architectural bronze polyester finish protects it from damaging UV rays, rough weather, and salt water. For an added measure of protection, the lens is made of thermal-shock, impact-resistant glass that won't fade due to exposure to the sun. Moreover, the LEDs the fixture employs are resistant to shock and vibration, are "instant-on" even in cold weather, plus produce very little heat in the beam and contain no mercury.
The Areamaster LED boasts contemporary styling coupled with a lightweight, easy to install and service design. Its hinged door remains captive when open for ease of installation. Only four screws must be loosened to gain full access to the LED driver and array, a vast improvement over competitors' floodlights fastened together by more than a dozen screws. In addition, the Areamaster LED weighs a mere 22 pounds, so the compact size combined with lightweight results in a lower wind loading when mounted on a pole application.
The energy-efficient Areamaster joins the industry's greenest lineup of LED hazardous location lighting solutions. For more details, please visit www.appletonelec.com.
About Appleton
Appleton is a premium line of hazardous location products under the EGS Electrical Group family of brands. EGS Electrical Group is a worldwide manufacturer of electrical products for virtually every type of environment. Distributors, contractors, engineers, electricians and site maintenance professionals around the world trust EGS brands to make electrical installations safer, more productive and more reliable. EGS is organized into three focused businesses that provide distributors and end-users expert knowledge and excellent service. It is part of the EGS Electrical Group, LLC, a division of Emerson Industrial Automation and is headquartered in Rosemont, IL.
Contact
Mary Krauss Emerson T (800) 621-1506
E-mail:mary.krauss@emerson.com
Web Site:www.appletonelec.com