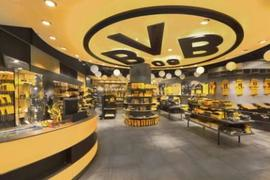 Date Announced: 02 Feb 2012
Dornbirn - The new BVB fan shop that the Bundesliga football team Borussia Dortmund has opened in the basement of the Thier Gallery, the most up-to-date and largest shopping centre in Dortmund, a retail area of around 160 square metres. BVB fans can find anything to do with their favourite team here. The Dortmund-based company of Dula-Werke Dustman & Co GmbH was commissioned to plan and implement the lighting installation. A key requirement was that the club colours of black and yellow should feature prominently. The decision went in favour of an installation based exclusively on LEDs and comprising TALEXX products from Tridonic because such an installation could meet all the stated requirements.
This fifth BVB shop in Dortmund has become a world of adventure with pleasant background lighting and effective lighting displays. They direct the attention of visitors to the articles on display. Colours, particularly the BVB yellow in the club logo – are highlighted to great effect. Dynamic lighting control constantly adjusts the brightness of particular groups of spotlights and gives fans the impression that both the club and the shop are dynamic entities.
The lighting system consists of 70 recessed spotlights, 30 power rail spotlights and 27 spherical spotlights, all special developments by Litec Leuchten GmbH, Germany. The integrated TALEXXengine STARK SLE LED systems have a luminous flux of 2500 and 4000 lumen. All the fixtures are dimmable. The systems are controlled on an application-specific basis with TALEXXconverter LCAI 50/1050 or LCAI 55/1400 which are equipped with an integrated digital interface (DALI, DSI) for control purposes.
With TALEXXengine STARK SLE Tridonic has developed a system solution with three perfectly matched components, namely an LED module, an LED converter and a ready-made cabling for connecting the module and the converter, which also means the system is easy to install. These modules offer impressive luminous efficacy. The value is up to 82 lumen per watt for the SLE module. The special technology produces up to 20% greater efficiency for warm colour temperatures compared with conventional phosphor systems for colour conversion. Colour rendering is also remarkable. The entire product series has a CRI in excess of 90 and up to MacAdam 3 SDCM for extremely small colour tolerance. TALEXXengine STARK SLE is available in three different versions – Premium, Select and Classic – which provide ideal coverage for indoor downlight and spotlight applications. One of the prime features of the Premium version is the Tridonic-specific white light (Tunable White) which has a colour temperature that can be smoothly adjusted from 2700 K to 6500 K and dimmed without any shift in colour.
The lighting installation is energy-efficient and therefore reduces operating costs. The long life of the LED modules is a major factor here. With a life of 50,000 hours there is no need to change the light sources, which makes the system virtually maintenance-free. This lighting concept also protects the environment. The modules make active contributions to environmental protection in that they contain no mercury, consume very little power, and are associated with greatly reduced CO2 emissions.
The people at BVB are very pleased with the results and the new shop is very popular with increased footfall. And thanks also to the lighting system the club is well represented by the shop. Fans and even "neutral" visitors find the shop so attractive that they are encouraged to step inside.
About Tridonic
Tridonic, headquartered in Dornbirn/Austria, develops, manufactures and markets equipment for a wide range of light sources, lighting management systems, LED solutions and connectors. Through its active partnership, outstanding service competence and technical expertise Tridonic enables its customers to implement lighting solutions of superior functionality and economy.
In the 2010/11 fiscal year, 2300 employees in 30 locations achieved sales of 437 million euros. More than 250 development engineers create intelligent lighting concepts based on sophisticated systems and products. More than 560 inventions and over 2000 patents are ample evidence of the powers of innovation of Tridonic. Customers include luminaire manufacturers, manufacturers of products that incorporate lighting, architects, electrical system designers, lighting planners, electrical contractors and wholesalers.
The history of Tridonic stretches back more than 60 years and is a success story with many highs. Today, true to its slogan "enlightening your ideas", Tridonic is synonymous with outstanding products and services related to the fascinating subject of light.
Contact
Markus Rademacher Tridonic GmbH & Co KG Phone: +43 5572 395 – 45236 Mobile: +43 676 8920 6313
E-mail:markus.rademacher@tridonic.com
Web Site:www.tridonic.com