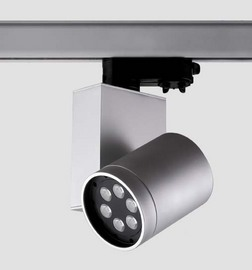 Date Announced: 14 Feb 2012
Ledoux's LED Track Light is a high power LED luminaire designed to provide an LED alternative to halogen or HID illumination effects for retail, chain, residential or architectural applications.
Ledoux LED track lights are available in 3*1w, 3*2w, 6*1w, 6*2w, 9*1w, 9*2w, 12*1w. This eco-friendly luminare features in screwless design and is available in three color temperatures and a lifesapn of over 30,000H.
Product Features:
1. Attractive simple design and quick installation is classically demonstrated.
2. Innovative advancement in thermal management combined with unique heatsink structure together with thermal conductive pad guarantees long lumen maintenance and long lifespan.
3. Precise optical design and anti-dazzle design creates the best lighting distribution and performance.
4. Spot head and arm can rotate by 355 degree; Screwless appearance design represents aesthetics of industrial design.
5. Application:Accent lighting in Hotel, Exhibition Hall, Gallery, Museum, Residence and etc.
Contact
Ledoux Lighting Co., Ltd Sammie +86 760 8755 3756
E-mail:sales@ledouxlite.com
Web Site:www.ledouxlite.com