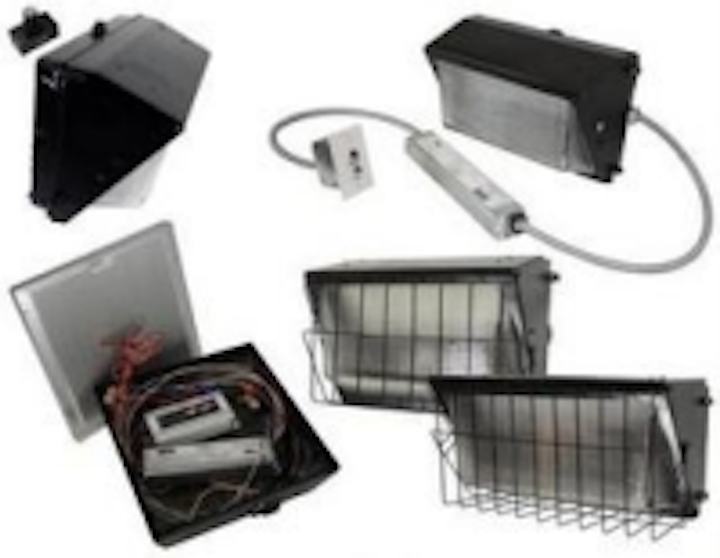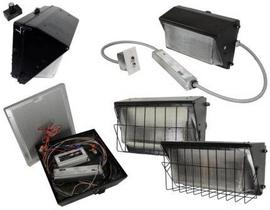 Date Announced: 13 Feb 2012
West Caldwell, New Jersey--- Adding value to its extensive line of Outdoor Lighting, MaxLite has introduced a variety of innovative accessories including a PhotoCell, an Emergency Battery Backup and Wire Guards in its MaxLED® family of LED lamps and fixtures. MaxLite is a global manufacturer and marketer of MaxLED®, an award-winning line of innovative LED luminaires and lamps using state-of-the-art LED technology.
The new Wire Guards can be used with all MaxLED® standard Wallpacks. Constructed with welded continuous wire, the Wire Guards protect and guard the high-quality shatter-resistant glass lens inside the fixture. The 2.8 mm wire, polyester powder coated in standard black, easily attaches to the wallpack's housing with existing lens screws and washers located on each side of the fixture. The Wire Guards are backed by a 3-year limited product warranty.
A UL-listed Outdoor Emergency Battery Backup system is offered in a galvanized steel case and designed for both normal and emergency operation of LED Wallpack and Canopy fixtures. During power failures, the unit switches to the emergency mode and operates the lighting fixture for 90 minutes from the internal battery pack. The unit includes one 16-cell or two 8-cell long life high temperature Ni-Cad battery packs, and a single can containing a charger and converter circuit for wiring to the fixture and test accessories. Three models are available, including internal, external and cold temperature versions. The Emergency Battery Backup meets all National Electrical Code (NEC) and Life Safety Code Emergency Lighting Requirements, and is supported by a 5-year limited product warranty.
Also new is the MaxLED® PhotoCell Option for outdoor fixtures, which operates with all MaxLite outdoor fixtures and activates when the light level drops below 20 lux and turns off when the level reaches 30 lux. The PhotoCell operates with MaxLite fixtures up to 300 watts in an operating climate ranging from -30 degrees Fahrenheit to 120 degrees Fahrenheit. This accessory can be installed at the factory or in the field, depending upon customer needs, and backed by a 3-year limited product warranty.
MaxLite's garage and canopy light fixtures, parking garage luminaires, and standard and full cutoff DLC-compliant wallpacks illuminate hundreds of garages and parking lots nationwide. The true white color of these LED garage lights and wallpacks reduce shadows and provide safe environments for up to 50,000 hours of maintenance-free, energy-efficient operation.
For spec sheets, please visit http://www.maxlite.com/PDFs/FocusSheets/Wallpack-WireGuard.pdf for the wire guards, http://www.maxlite.com/PDFs/FocusSheets/Wallpack-EmergencyBackUp.pdf for Emergency Battery Backup and http://www.maxlite.com/PDFs/FocusSheets/OutdoorFixturePhotoCell.pdf for PhotoCell.
For hi-res images, please visit http://www.maxlite.com/PDFs/PR/PRkit/OutdoorAccessories-PRkit.zip.
About MaxLite (www.maxlite.com)
Inheriting global manufacturing and marketing expertise that dates back to 1955, MaxLite was one of the first movers into LED technology in the industry. Committed to energy-efficiency as an ENERGY-STAR® Partner of the Year in 2009, MaxLite established the MaxLED® brand, an extensive line of indoor and outdoor lighting fixtures featuring innovative LED luminaires and lamps using the latest state-of-the-art LED technology. MaxLED® includes the award-winning Flat Panel collection, the best-selling outdoor lineup, plug-and-play light bars, and LED lamps.
Out of the company's two main distribution centers, ideally located in West Caldwell, New Jersey and Rancho Cucamonga, California, MaxLite ships products within the continental United States within one to three days on standard orders. Through MaxLite's innovative research and development capabilities in its California office, MaxLite continues to be at the forefront of energy-efficient technologies. For more information about MaxLite and its products, call 800-555-5629, fax 973-244-7333, email info@maxlite.com, or follow the company on Twitter at https://twitter.com/maxlitenewsroom.
Contact
Christopher Pica T 631.262.0374
E-mail:CPMediaRelations@gmail.com
Web Site:www.maxlite.com