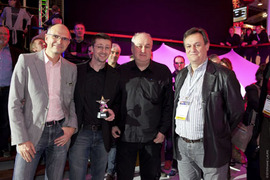 Date Announced: 14 Feb 2012
Robe's new ROBIN DLX Spot LED moving light has won a prestigious Award for Technical Innovation at the 2012 SIEL trade exhibition in Paris - France's leading international expo for the professional lighting, sound, video and entertainment technology industry.
The DLX Spot was entered into the 'Lighting' category by Robe's French distributor, Paris-based Axente.
The Awards were judged by an independent panel of industry experts, including lighting designers, technical and creative directors and representatives from top rental companies – who closely examined each nominated product, before conferring and making their final decisions.
Over 60 originally entered products where whittled down into 24 'finalists' which were examined by the judges, who selected nine winners, five in Audio and four in Lighting
The ROBIN DLX was selected as the winner for its intensity, colour mixing capabilities, homogenised lightsource and power saving capabilities – all qualities that greatly impressed the judges, and make it an ideal fixture for multiple applications including rental and staging, studios and installations.
The ROBIN DLX Spot uses a new and unique RGBW LED light source and offers a colour output brighter than a 575 Watt discharge unit, but with the very eco-friendly average power consumption of only 250 Watts!
The optical system produces a very smooth, high quality light output of rich, beautiful colours with no shadows utilizing a versatile zoom of 10 – 45 degrees. Effects features include a combination of static and rotating gobo wheels with custom replaceable positions, variable frost, a three-faceted prism, super-fast iris and many more including full-range dimming and variable strobe effects.
The homogenisation means that the LED point sources are not visible, and the unit offers a completely smooth, super high quality, flat field of light similar to a tungsten source.
As soon as the Awards were announced at the show, visitor levels to the already busy Axente stand were boosted as people flocked to see the DLX in action reports Robe Key Account Manager for Europe, Ingo Dombrowski
He further comments, "It was a very big honour to win this Award. We think the DLX and other ROBIN series products in general have a great future. Robe as a manufacturer is really driving LED technology forward, with new ideas constantly evolving, a real commitment to producing greener products and thinking intelligently about what designers and specifiers want, and the features and functionality they need".
Photo caption : Left to right Ingo Dombrowski (Robe, Key Account Manager Europe), Jérôme Bréhard (Axente, General Manager), Alain-René Lantelme (Axente, Sales Director) and Xavier Drouet (Axente, President).
Contact
Louise Stickland +44 (0)1865 202679 +44 (0)7831 329888
E-mail:louise@loosplat.com
Web Site:www.robe.cz