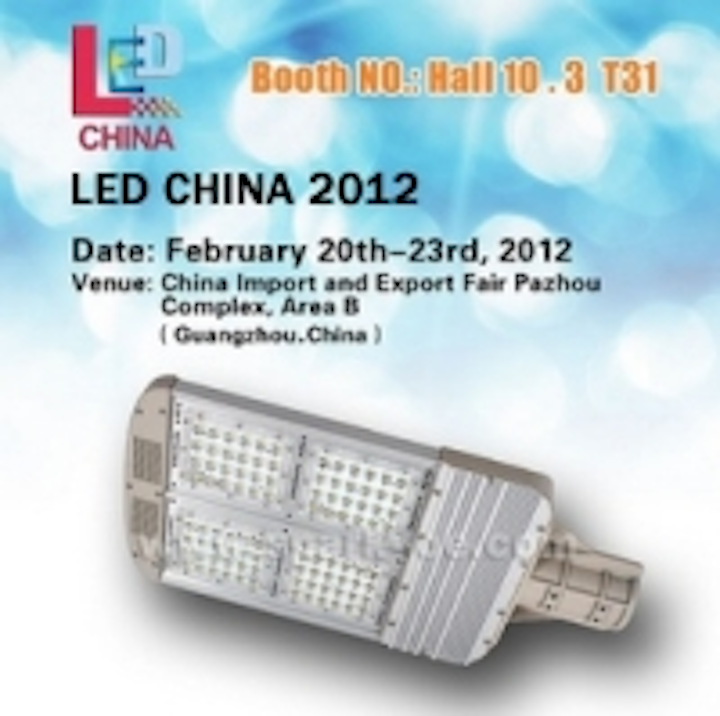 Date Announced: 15 Feb 2012
The eighth period "LED CHINA 2012" will hole on Feb. 20-23st, 2012 at China import and Export Fair Pazhou Complex, Area B (Guangzhou. China) again. It will establish 5districts 7pavilions. Total area will reach 70000 square meters.
There are 3 pavilions, 30000 square meters for LED lighting show. LED lights play the important part of LED CHINA 2012 continue.
LED lighting and environmental protection lighting show area is the focus of 2011 Autumn lighting Fair. As one of the pioneers and famous exhibitor for "HK Autumn International Lighting Exhibition 2011". Shenzhen Spark Optoelectronics S&T Co., Ltd (Booth NO. Hall 10.3 T31) rely on 10years research and development, widely range of led lights and superhard high quantity will make a bright stage pose on LED CHINA 2012 again. Spark will show his full color products and spark brand fascination to customers from all of the world.
SPARK Optoelectronic is one of the world's largest manufacturers, suppliers and exporters in solar photovoltaic lighting & LED lighting. Since foundation she focused on researching & developing and innovating LED technology, achieved major breakthrough in dozens of LED lighting application technology. On the core & key research in LED lighting and solar LED lighting technology, she conducted following subject projects "2010 Technology Projects Plan of Ministry of Housing and Urban-Rural Development", "2010 Science and Technology Major Projects of Guangdong Province", "2011 Guangdong Industry-University-Research Projects" (key technology research and application of network type wind & solar high-power LED lighting systems), "2011 National Torch Program" and "Shenzhen solar semiconductor lighting technology engineering laboratory" etc..
The intelligent high-power LED street lamps and other lighting products the company developed to be identified by the three Ministries of NDRC (National Development and Reform Commission), MOT (Ministry of Transport of the People's Republic of China) and MHURD (Ministry of Hosing and Urban-Rural Development) as national demonstration lighting products, which save energy more than 70%.
At the LED CHINA 2012, Spark will exhibit all their brand intelligent indoor and outdoor lighting product. Such as, intelligent LED streetlight, intelligent solar LED streetlight, intelligent LED tunnel light, intelligent LED down light and other dimmable products. For the streetlight, it adopted new and intelligent power supply and bring in central control system to realize remote control and time phase dimming function for lamp, this will reduce energy consumption hugely then achieve consumption according to requirements.
Spark intelligent streetlight control system is introducing Power Line Carrier technology, with standard communication protocol to achieve controlling and management for individual lamp. It's remote & centralized monitoring and the streetlight net in its true sense. The whole system can meet the target of energy-saving and emission-reduction and scientific management. It can be widely apply for road, tunnel, bridge, square, dock, living area and big intelligent indoor lighting project.
The intelligent light adopts three-layer structure controlling. The lamp distribution is in a sight of intuition via the electronic map, making it realized of energy saving controlling, device supervision, data storage and statistic analysis. The central controller monitors connection between controlling center and node controller, information transformation, timed mission execution. It's able to connect 1024 nodes at the same time. Node controller make it come true of single lamp controlling, making lamps more energy saved lamp lifespan extended via precise setting up the turning-on and off time, flexible time interval turning-on and off, intelligent dimming and distributor controlling.
The advised PLC communication technology is advantaged with no new wiringin modification projects, easy installation, easy maintenance, practical function, stale telecommunication, self-supervision, failure alarm, making it shorten process time and unattended.
In addition, Spark intelligent LED street lighting adopt secondary light distribution lens to realize secondary energy-saving, and solve the uneven light efficiency distribution problem; direct heat dissipation structure and integrated design make the lamp more energy-efficient and environment friendly. Based on the existed research results, get patented technology achievements transferred, to further increase the LED street light key technology research and development efforts, enhance the performance indicators and core competitiveness, form industrial scale.
In application, intelligent led lights of Spark have overall stand the test of customers from more than 150 countries and regions in Europe, the Americas, Africa, Oceania, Southeast Asia and the Middle East, thus ensuring the advanced technology and high-end quality of products. Spark will continue to dedicate to solution of intelligent management of city illumination and development of core products and improve the standard of intelligence of led green light and information so as to satisfy the requirement of energy saving, environmental protection and low carbon and make her contribution to the build of conservation-oriented society.
Contact
Keziah Song General Manager Tel: (86 755) 8390 4366 Fax: (86 755) 8390 4766
E-mail:sales@spark-oe.com
Web Site:www.spark-oe.com