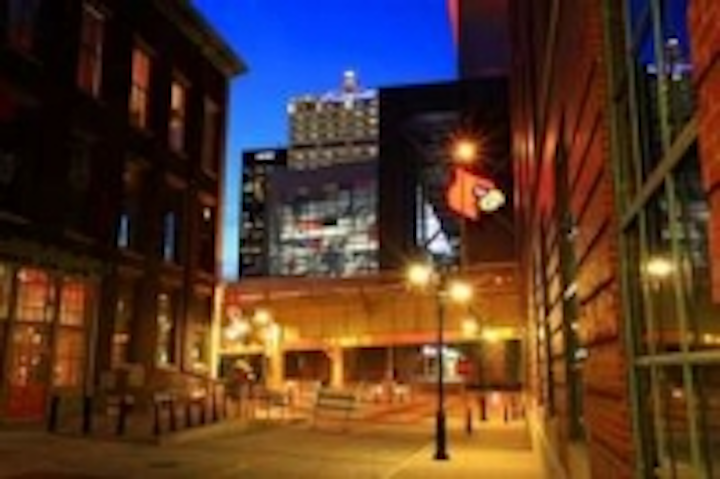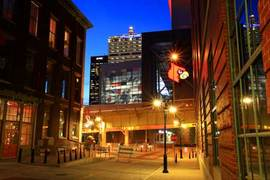 Date Announced: 15 Feb 2012
East Cleveland, Ohio(NYSE: GE) — In Louisville, Kentucky, the historically significant George Rogers Clark Memorial Bridge, known locally as the Second Street Bridge, has been a prominent Ohio River crossing for over 80 years. Like some other historical landmarks in the city, however, urban decay and surrounding vacant land left the area under the bridge desolate and uninviting for many years. This all changed in June 2010 when Kentucky Governor Steve Beshear and Louisville Mayor Jerry Abramson announced a $3 million Second Street Transportation and Streetscape Project, which included an innovative lighting design, to revitalize a three-block area of Second Street, forming a vibrant public plaza where residents can meet and relax.
The object of the project was to create an "urban living room" housed under a newly lit "ceiling" created by the Second Street Bridge. Planned improvements included widening Second Street and its surrounding sidewalks to better accommodate car and foot traffic to the KFC YUM! Center that borders the bridge, the creation of a plaza for vendors and performers to entertain crowds, and development of seating areas where community members can convene. Funded by federal American Recovery and Reinvestment Act (ARRA) dollars, as well as state and local money, the project needed to be completed within one year, according to grant stipulations.
Selected as the lighting designer and color consultant on the project, Leni Schwendinger of Light Projects LTD chose to support the local economy by selecting GE, whose Appliances' headquarters is based in Louisville, Ky., to supply the necessary lamps to fulfill her vision for a dynamically illuminated space. Schwendinger sought to use simple, inexpensive lighting technology in an unusual and innovative way to make the massive I-beam girders and bridge surface come alive by way of programmed cast lighting. She chose energy-efficient 54W GE Ecolux® Starcoat® T5 fluorescent tube lighting, generally reserved for use in commercial buildings, as her main means of illuminating the underside of the bridge and providing wash lighting. Luminaires filtered with colored glass contained these weatherized tubes to create crimson and gold hues and were controlled by a Digital Addressable Lighting Interface (DALI) lighting system adapted for exterior use and complex lighting sequences. Additionally, GE Protected ConstantColor® PulseArc® CMH® Ceramic Metal Halide ED17 and GE ConstantColor® PulseArc® CMH® Ceramic Metal Halide T6 lamps were pole- or clamp-mounted to provide street and bridge column lighting, and crimson-colored GE ConstantColor® PulseArc® CMH® Ceramic Metal Halide ED17 lamps served as bridge coffer accent lighting.
"While the Second Street Bridge project embodied a very unusual application for fluorescent tube lighting, these lamps worked perfectly", Schwendinger reflected. "The underside of the bridge started as a dark, uninviting space and has been utterly and completely transformed into a meeting ground for events."
In homage to its roots and location near the City's recently revitalized, historical "Whiskey Row" that once served as the center of Louisville bourbon production, the Second Street Bridge was repainted to a cream color, which, when illuminated by its new crimson- and gold-colored fluorescent lighting, takes on the amber color of the bourbon for which Kentucky is so famous. The bridge's appearance under its new lighting conditions was also designed to be reminiscent of a sunset magnified by the Ohio River.
In addition to the bridge's colored underpass-lighting, a line of bright LED lights were installed along the edge of the bridge and were integrated into the DALI system. Similar to the flashers that light the Eiffel Tower, these LEDs are programmed to count down the hours from sunset to midnight on weeknights or to 2:00 a.m. on Fridays and Saturdays. On the hour, the bridge comes alive with dynamic sequences giving the impression that the bridge itself is breathing. These highly efficient, versatile beacons add intrigue and excitement to the already welcoming plaza below the Second Street Bridge.
The public space below the Second Street Bridge was opened to the public in October 2010, on budget and in time to create an inviting promenade for the opening of the nearby arena.
About GE Lighting
GE Lighting invents with the vigor of its founder Thomas Edison to develop energy-efficient solutions that change the way people light their world in commercial, industrial, municipal and residential settings. The business employs over 17,000 people in more than 100 countries, and sells products under the Reveal® and Energy Smart® consumer brands, and Evolve ™, GTx, Immersion ™, Infusion ™, Lumination® and Tetra® commercial brands, all trademarks of GE. General Electric (NYSE: GE) works on things that matter to build a world that works better. For more information, visit www.gelighting.com.
Contact
David Schuellerman
E-mail:david.schuellerman@ge.com
Web Site:www.gelighting.com