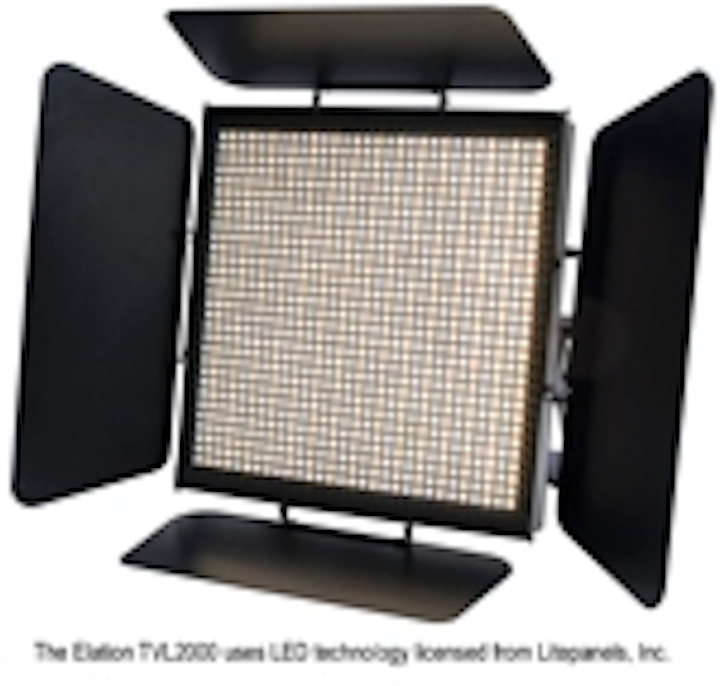 Date Announced: 03 Feb 2012
Los Angeles, CA – Elation Professional Lighting, has entered into a licensing agreement with Litepanels®, Inc. (Van Nuys, California) covering the use of the latter company's patented LED technology for broadcast, photographic and motion picture lighting production.
Under the terms of the agreement, Elation has been granted the rights to use Litepanels' patented LED technology for the primary illumination of subjects for image capturing in film and video. The patented Litepanel technology will be used in Elation lighting fixtures intended for television, film and video production applications such as the TVL2000.
An ADJ Group company, Elation Professional is a leading supplier of lighting products for the entertainment, exhibition, architectural, house of worship and film/video production markets. The company's products are sold globally under the Elation brand. Under the terms of its agreement with Litepanels, Inc., Elation will be able to use the patented technology in the products it sells in all of its markets. Elation maintains a policy of respecting the valid and enforceable intellectual property rights of others.
A Vitec Company, Litepanels Inc. manufactures a broad range of white light LED fixtures that have been used in a large number of major motion pictures, network television productions, and broadcast studios.
Specific terms of the agreement, which went into effect in January 2012, were not disclosed. For more information, contact Elation Professional at info@elationlighting.com or call 1-866-245-6728, www.elationlighting,com.
Contact
Elation Professional 1-866-245-6728
E-mail:abby@fucinipro.com
Web Site:www.elationlighting,com