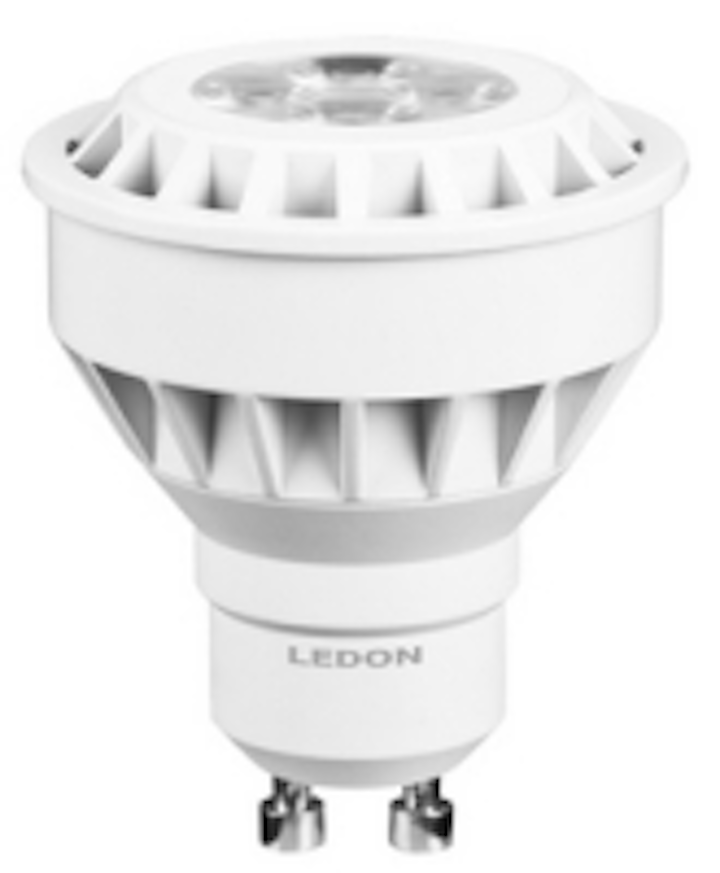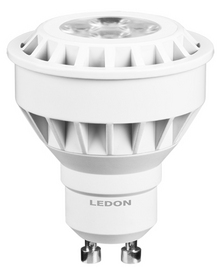 Date Announced: 17 Feb 2012
Just in time for the new year, LEDON has launched a product offensive. The Austrian supplier has extended its portfolio with a number of new LED lamps suitable for all areas of application. The new LED light sources include both screw-base lamps and high-performance products for spot lighting. All of them feature a high colour rendering index and agreeable warm white light.
Dimmable 7 W and 5 W LED spotlights
In particular in the field of LED spot lighting, LEDON has introduced numerous new products with higher wattages to the market, including dimmable 7 W and 5 W GU10 spotlights. Both versions are available with beam angles of 35 degrees as well as 25 degrees. Their colour temperature is a 2700 K warm white. The 7 W LED spotlight has a luminous flux of 320 lm and is therefore a perfect alternative to conventional reflector lamps of up to 50 W. The 5 W model is also available as an Low Voltage spot with GU5.3 base. With 230 lm it is the ideal successor to the current 35 W reflector lamps. Thanks to their compact size, these LEDON lamps will fit directly into existing halogen lamp fittings.
10 W globe lamp
With the 10 W globe LED lamp LEDON has extended its portfolio of conventional light sources. The decorative "bulb-shaped lamp" boasts 600 lm. It is 19.5 cm high and 9.5 cm wide at the maximum, which makes it the lamp in the LEDON portfolio. It is also available in a dimmable version and with a double-click function to reduce the brightness level using an ordinary light switch.
Versions with E14 base: candle and golf ball
LEDON's new candle-shaped lamp is the ideal alternative lamp for chandeliers and other luminaires, creating an elegant atmosphere and nostalgic splendour. The attractive LED lamps with a power consumption of only 5 W have a luminous flux of 220 lm at a warm white colour temperature of 2700 K. The candle is available both in frosted and transparent dome.
The golf-ball style LED lamp is an accomplished combination of compact dimensions, lighting quality and energy saving. It is the perfect replacement for traditional reflector lamps with E14 base. This lamp, too, has a power consumption of only 5 W with a luminous flux of 230 lm and a colour temperature of 2700 K.
Characteristic wave design
Both the candle and the golf-ball LED lamps feature the new LEDON design in the shape of a wave on the heat sink. The entire product range will gradually be adapted to this new design feature, which will serve as a distinctive hallmark of the Austrian supplier's high-quality lamps.
Light that makes people feel good
One of the most important criteria of all LEDON lamps is their superior lighting quality. In contrast to the sallow light produced by other energy-efficient lamps, LED light sources feature a high colour rendering index, which results in a "natural" light just like that created by incandescent bulbs. Due to these properties and other benefits such as energy efficiency, a long service life and environmental compatibility, high-quality LED lamps, the light sources of the future, will soon gain in importance in general lighting.
Contact
PR Manager LEDON Lamp GmbH Höchsterstraße 8 A-6850 Dornbirn Tel. +43 5572 509-50327 Fax +43 5572 509-950327
E-mail:erik.nielsen@ledon-lamp.com
Web Site:www.ledon-lamp.com