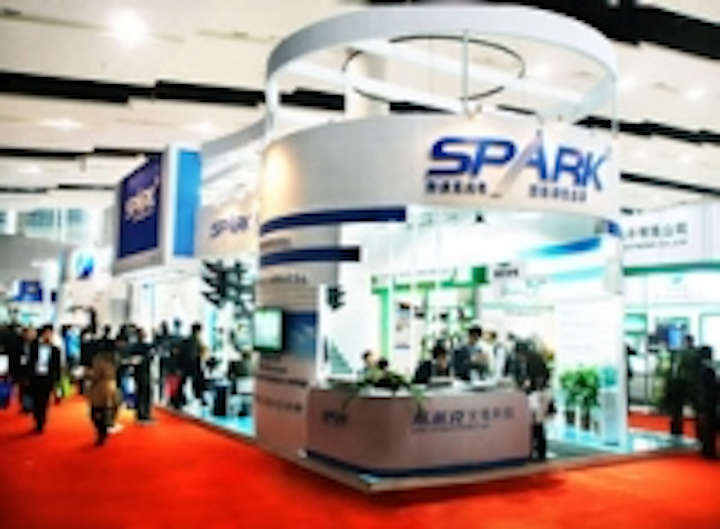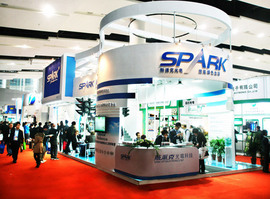 Date Announced: 29 Feb 2012
On February 20, the eighth GZ international LED lighting fair opened at Pazhou exhibition center, which is known as the "vane" for LED industry development. As an industry leading enterprise, Spark takes part in the exhibition.
Spark booth is 90 square meters, double floor design, to show intelligent controlled LED Street lamp, high brightness LED tunnel light, LED High Bay lights, LED Traffic lights, LED tube light, dimmable LED panel light, LED down light and so on. Visitors come in an endless stream.
Besides the traditional advantage outdoor LED products, Spark indoor products such as LED panel light, LED High Bay light and LED down light also left a deep impression to customers at this exhibition.
Spark LED panel light adopt high brightness Epistar SMD3528 LED, front emitting design to ensure even light distribution, with dimmer function, can be connected in series to realize intelligent control together. This item is special popular in Europe market, many visitors and clients are also very interested.
Spark latest 160W and 200W LED high bay light use high-power and high brightness CREE XML LED, can be done with dimmer function according to customer request. This housing is integration design, to make it fully waterproof and dustproof, with delicate and thin appearance, brightness is 10-20% higher than other similar products in the market. Attracting many customers stop and ask about it.
Spark intelligent streetlight control system is introducing Power Line Carrier technology, with standard communication protocol to achieve controlling and management for individual lamp. It's remote & centralized monitoring and the streetlight net in its true sense. The whole system can meet the target of energy-saving and emission-reduction and scientific management. It can be widely apply for road, tunnel, bridge, square, dock, living area and big intelligent indoor lighting project.
The intelligent LED light adopts three-layer structure controlling. The lamp distribution is in a sight of intuition via the electronic map, making it realized of energy saving controlling, device supervision, data storage and statistic analysis. The central controller monitors connection between controlling center and node controller, information transformation, timed mission execution. It's able to connect 1024 nodes at the same time. Node controller make it come true of single lamp controlling, making lamps more energy saved lamp lifespan extended via precise setting up the turning-on and off time, flexible time interval turning-on and off, intelligent dimming and distributor controlling.
Thanks for our new and old customers' support for Spark. We will always follow the "quality innovation honest service" business philosophy, to provide customers with high quality products and good service.
Contact
Keziah Song General Manager Tel: (86 755) 8390 4366 Fax: (86 755) 8390 4766
E-mail:sales@spark-oe.com
Web Site:www.spark-oe.com