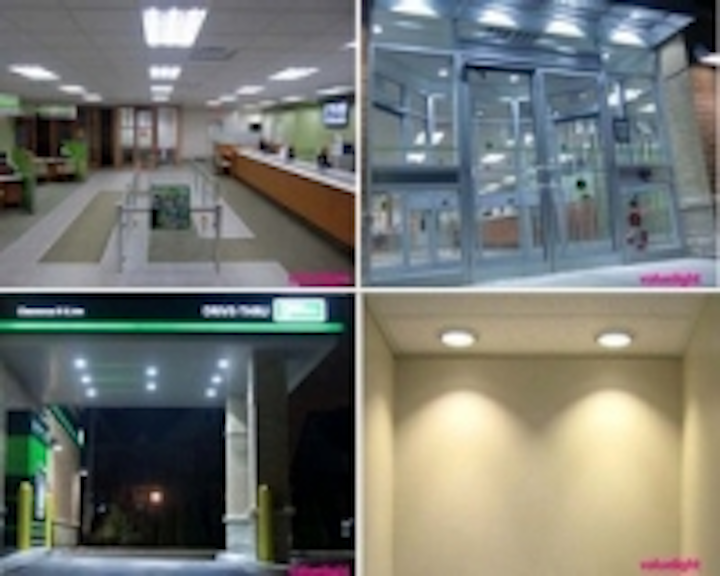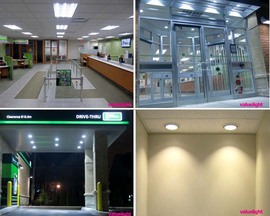 Date Announced: 28 Feb 2012
-- New Economical Product Line Deflates High LED Luminaire Marketplace Prices
Toronto, ON -- With a five-year, multi-million dollar R&D program and supply channel agreements completed, Valuelight launched LEDine:
A revolutionary portfolio of affordable high performance commercial LED luminaires. Businesses, retail chains, municipalities, and other commercial and industrial customers seeking to replace their traditional lighting with Solid State Lighting (SSL) in order to save energy and eliminate maintenance, are no longer restricted to a limited selection of high priced LED fixtures.
Valuelight's ground-breaking new line of commercial LED luminaires is destined to change the current status quo in the Solid State Lighting market. With advanced designs now fully integrated with the next generation of LED components, and modern, efficient fabrication techniques and processes, these reasonably priced Valuelight LEDine luminaires have knocked down the price barriers that until now restricted the widespread use of SSL for commercial, industrial and institutional applications.
Culminating a multi-million dollar R&D program with a tight vertical supply chain integration and partnership agreements with key component providers, over fifty groups of the new Valuelight LEDine luminaires are now in full production and available for specification.
Valuelight LEDine luminaires include radically redesigned LED roadway, high bay, low bay, canopy, indoor recessed downlights and office troffer lights, parabolic luminaires, wall-packs, utility, parking structure, architectural and landscape luminaires.
Throughout Canada and the United States, municipalities, schools and businesses are striving to replace their inefficient lighting to save energy and reduce utility costs. They all want to go green with more environmentally-friendly, sustainable lighting solutions.
New Solid State Lighting designs and solutions from Valuelight offer numerous benefits such as immediate energy savings of a minimum of 60%, a true 100000 hour L70 lifespan of both LED light engines and electronic control systems (drivers) for true "install and forget" convenience, long term maintenance savings, and also greater controllability. The use of controls, sensors, day lighting, and intelligent network systems offer an additional 25% - 80% in energy savings by simply adjusting light levels precisely based on when and where the illumination is needed. These controls can multiply the already extensive hours of practical life given by Valuelight LEDine luminaires, to periods that could exceed thirty to forty years of maintenance-free life.
In addition, Valuelight LEDine luminaires are eco-conscious with earth-friendly properties. Unlike typical gas chamber discharge lamps, the semiconductor LED contains no mercury or other hazardous waste materials. Valuelight LEDine lights produce no ultraviolet radiation, and no EMI (electromagnetic interference) emissions. Owing to these improved properties, LED lighting is a key contributor for government and utility sponsored rebate programs, as well as building projects seeking LEED (Leadership in Energy and Environmental Design) status and recognition.
Illustrating this environmentally conscious shift is TD Canada Trust (one of Canada's top five banks), who, since the summer of 2010, has opened thirty seven new branches all 100% LED illuminated with SSL light fixtures from Valuelight. Over one hundred more branches are scheduled for this year and the next to be built or retrofitted to 100% LED lighting. Exclusive specification of Valuelight LEDine luminaires for both indoor and outdoors have already brought approximately half a million square feet of TD Bank commercial buildings to meeting Silver Level LEED certification.
Other major options for LED conversions include outdoor area lighting, street lighting, gas station canopies, overhangs, shipping docks, parking lots, garages, and perimeter security lighting that traditionally employs HID (high intensity discharge) lights. In particular, street lighting can consume up to 40% of a municipality's utility budget, so converting to LED is both a perfect environmental and financial solution.
Indoor LED conversion applications include warehouses, high ceiling retail, commercial and industrial buildings using HID, and office lighting traditionally dominated by recessed fluorescent fixtures. In the past, despite the considerable benefits over conventional lighting for these applications, LED luminaires came with "price-sticker shock" for municipal and business customers. This no longer applies to the Valuelight LEDine group of products.
Where the typical per unit LED fixture price has been too expensive when compared to conventional alternatives, Valuelight has addressed this critical issue in its comprehensive research and development program for the next generation of LEDine luminaires. The result is a truly affordable LED product line with high performance features, top quality, leading brand components with warranties, and with modular, upgradeable, easy to service design.
End-users also benefit with economical component upgrades to take advantage of the very latest advancements in LED technology and lighting controls. In most cases, utility rebates and federal stimulus funds can make retrofit projects more appealing with accelerated ROIs and paybacks as short as one year.
Valuelight has rapidly emerged as the leader of indoor and outdoor LED lighting for high lumen applications. State of the art LEDine luminaires are now available up to 700W / 58000 lumens LED in the new HILED series. With the largest selection of commercial LED luminaires in the marketplace, Valuelight has developed many unique award-winning light fixture designs that maximize the performance of LED technology and its unmatched potential of true 100000 hour / 25 years of system life. These innovations include precise optical systems, dimmable and bi-level LED fixtures, and the use of a newly patented heat pipe thermal dissipation system that reduces high power LED Luminaire weight by up to 70% while maintaining low temperatures on all critical components and systems.
All Valuelight LED luminaires are made in Canada or assembled in New Jersey and are sold with an industry-exclusive seven year warranty. Extended-life street lighting (roadway) luminaires, industrial high bays and select group of commercial luminaires are now covered by a ten-year warranty. Valuelight customers continue to place a premium on the exceptional National Service & Support Team in terms of performance, quality, response time, toll free hot line availability, and overall up time for all Valuelight lighting systems. Lessening the end-user soft costs associated with bringing this type of technology to any project are the availability and resourcefulness of Valuelight's technical support, extended LED, driver and ballast / luminaire warranty and toll free numbers.
The success of Valuelight luminaires is consistently being proven in a fast expanding number of commercial, retail, municipal, university and agricultural installations throughout the U.S. and Canada. With a well established strong distribution and sales network, as well as a growing base of major customers, Valuelight experiences great market penetration, quickly growing market shares and success with its new LEDine product portfolio.
In business since 1995 Valuelight is a leading commercial lighting manufacturer with their corporate headquarters, factory and distribution centre in Toronto, Canada. They also have an assembly facility in Kinnelon, New York and a metal component factory in Shunde, China. Valuelight continues to change the world of lighting with the latest green technology, energy saving lighting and controls. Valuelight's extensive product lines include architectural and commercial fluorescent, induction, HID, LED, Dark Sky friendly outdoor luminaires, emergency light fixtures and sensor / control systems.
Contact
Alia Emami, National Sales Manager Phone: 1-800-49-LAMPS 1-416-497-8000 Fax: 1-800-243-9494 1-416-352-5322 E-mail: alia.emami@valuelight.com
E-mail:ing@valuelight.com
Web Site:www.valuelight.com/LED