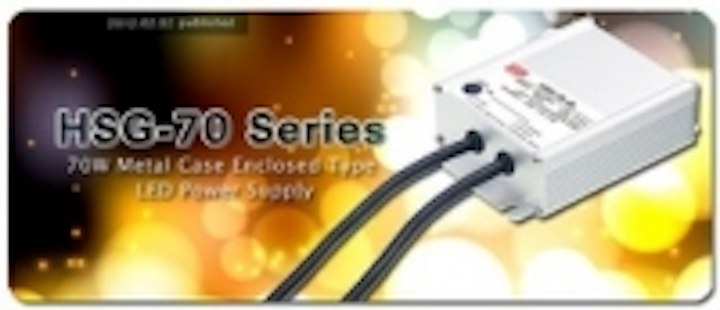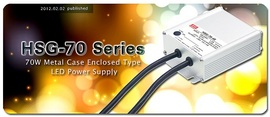 Date Announced: 02 Feb 2012
After launching the rectangular shape metal case LED power units with high IP level and PFC function~ CEN-60-100 (60~96W), CLG-60-150 (60~150W), HLG-40H~320H (40~320W) series, MEAN WELL introduced another 70W LED power supplies with wider and shorter metal enclosure ~HSG-70 series, to fulfill the demands of certain length limited installations such as indoor/outdoor LED lighting and decorative lighting applications.
Different from the general design that input in front and output in rear, the I/O connection of these new models are changed to the same side, which allows system designer a flexible wiring installation. In addition, to fit in with the outdoor harsh environment, HSG-70 series are designed with aluminum case, stainless screws, and fully potted by heat-conducted glue (IP65 structure), in order to protect the electronic components and provide the anti-moisture and anti-dust ability.
HSG-70 series not only fit for general 115VAC or 230VAC main input, but also can be operated under 277VAC input in North America. Built-in two-stage active PFC function, HSG-70 comply with harmonic current limitation per EN61000-3-2 Class C (>60% load). They also fulfill PF>0.9 if loading over 60% and possess 4KV surge immunity (EN61000-4-5) ability which complies with the requirements of general lighting. With up-to date high efficiency topology, HSG-70 possesses up to 90% of high efficiency, so it can be cooled by free air convection from -40℃ to +70℃ ambient temperature (-40℃ power on at 230VAC and above) that meets the requirements of outdoor installation. Besides standard functions of current adjustment by internal potentiometer, protections for short circuit, over voltage, overload, and over temperature, these power units are suitable for applications of LED high bay lighting, LED spot lighting, outdoor LED electric display, LED decorative lighting, and general indoor/outdoor LED lighting. Finally, they are also good solutions for general industrial applications at indoor or outdoor environment with high dust and moisture.
• Wide range input 90~305VAC
• Aluminum case and potted by glue, comply with IP65
• Output current adjustable by internal potentiometer
• Meet 4KV surge immunity level (EN61000-4-5)
• Built-in active PFC function, comply with EN61000-3-2 harmonic Class C (>60% load)
• 90% high efficiency
• Cooling by free air convection
• Protections: Short circuit / Overload / Over voltage / Over temperature
• Certificates: CE
• Dimension (LxWxH): 127.2x 90x 38.8mm
• 3 years warranty
Contact
MEAN WELL ENTERPRISES CO., LTD
E-mail:info@meanwell.com
Web Site:www.meanwell.com