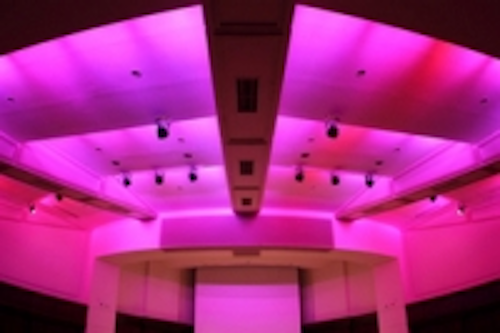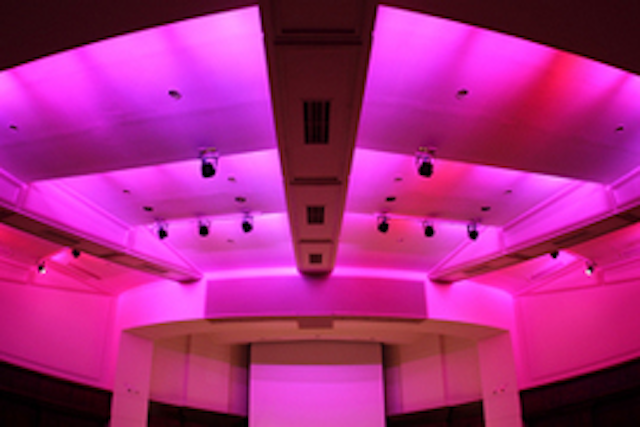 Date Announced: 21 May 2012
Charlotte, NC — Calvary Church's chapel recently underwent a substantial upgrade with the installation of 70 CHAUVET® fixtures, aiming at saving energy, minimizing costs and bringing a vivid atmosphere to worship services.
Switching to an all-LED inventory from traditional luminaires, the 350-seat chapel now transforms under the colored light of 48 COLORrail™ IRC linear wash fixtures and 17 COLORado™ Zoom Tour wash lights. Jack Kelly, lighting designer and owner of Eye Dialogue Lighting and Sound, drenches the white arched ceiling that fans out above the congregation in soft pastels.
Hung above the audience from niches above the stage, COLORado™ Zoom Tour wash fixtures light the performers and speakers on stage. Used for cove lighting are COLORrail™ IRC linear wash fixtures. Technical Director for the church Shelton Morgan said he is impressed with the COLORrail™ IRC and COLORado™ Zoom Tour lights equally but for different reasons. "I like the COLORrail™ IRC for its flexibility and chases and runaway effects," he said. "COLORado™ Zoom Tour is very efficient for us because I don't have to refocus the light. I can zoom in and out from the controller."
Brian Barker, project manager for Eye Dialogue Lighting and Sound, said the church invested in the new CHAUVET® fixtures to save on power, be green and to change the traditional look of the chapel. "The LED lights completely transform the space. The ceiling is so colorful now and the lights color the stage," Barker said.
Featuring 96,000 programmable steps, a Stage Designer™ 50 console controls all five universes of DMX. Four Data Stream™ 4 universal DMX-512 optical splitters help accessing the three universes of DMX control on the ceilings and the two universes for the stage.
Contact
800.762.1084
E-mail:sales@chauvetlighting.com
Web Site:www.chauvetpro.com