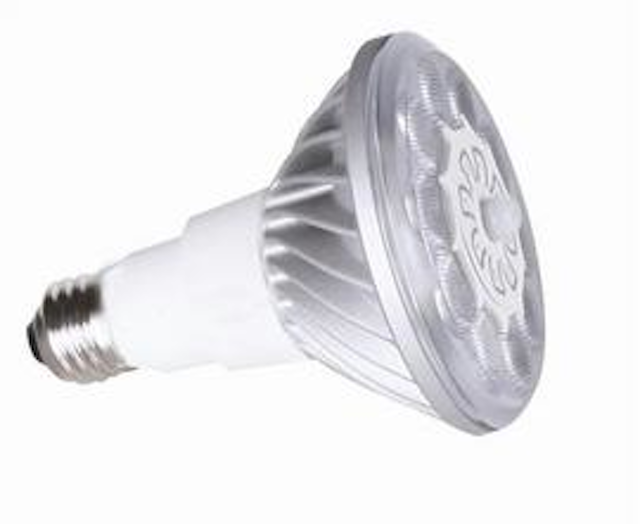 Date Announced: 17 May 2012
Satellite Beach, Fla. — Lighting Science Group (OTCBB: LSCG), one of the world's leading LED lighting companies, today unveiled some of the most advanced LED products to have been introduced to the lighting industry at LIGHTFAIR International. With a reputation as innovation leaders, the Company's world-class team of scientists and engineers redefined the boundaries of possibility in lighting technology with this year's suite of products and additions, all of which deliver on the efficiency and performance promises of LED.
In addition to an impressive line up of residential, commercial, infrastructure and custom LED applications, the Company is displaying wirelessly controlled, intelligent luminaires; color tunable lights; advanced product design fixtures; advanced camera motion detection luminaires; and a bulb with integrated motion detection.
Lighting Science Group's new ultra-efficient J5 security light integrates video sensing with Wi-Fi operation and streams real time imaging to home computer or mobile devices making it ideal for commercial or residential applications. The J5 incorporates the Company's new PixelView™ video occupancy control system, which is also being shown directly integrated into many of Lighting Science Group's other luminaires. Whereas typical exterior occupancy controls using Passive Infrared (PIR) technology to detect motion can be severely compromised in hot or cold environments, the PixelView Occupancy Control system relies on image sensing and video processing. As such, the luminaire's ability to detect and characterize motion is unaffected by ambient conditions.
The Company's Definity Motion Activated PAR 30 is 80% more efficient than the 65-watt halogen lamp that it replaces and integrates both motion and ambient light sensing directly into the lamp, eliminating the need for separate controls. User configuration options built into the bulb include time delay, dimming range, and motion and distance sensitivity. Setting a new standard in advanced lighting control, the bulb won the top LIGHTFAIR International 2012 Judges Citation Award.
Mimicking the lumen (light) output of a 50-watt incandescent or halogen bulb in a downlight, the Company's 4 inch 9.5-watt Glimpse LED downlight maintains the same top-tier performance that has come to differentiate the company's LED products from its competitors, while offering an improved, innovative thermal design that reduces the volume of raw materials needed for assembly by up to 70%. The product was selected as a 2012 Next Generation Luminaires (NGL) Solid State Lighting (SSL) Indoor Competition winner. The competition is sponsored by the U.S. Department of Energy, the Illuminating Engineering Society, and the International Association of Lighting Designers.
"While other companies are struggling to develop performance LED lighting products, we are bringing to market some of the most advanced and exciting lighting products in the world," said Jim Haworth, chairman and chief executive officer of Lighting Science Group. "Demonstrating our speed to market—most of these new innovations that we are showing at LIGHTFAIR will be in the market by the end of this year or the beginning of next year."
The new product line joins the Company's suite of products that have found applications ranging from use in NASA outer space ventures; to artistic designs that span skyscraper silhouettes; to everyday, practical implementations for American homes and businesses that save families and business owners significant amounts of money on electricity bills. On the global stage, Lighting Science Group has become synonymous with the ultra-efficient lighting revolution, and at home the Company is most commonly viewed as the fulfillment of America's clean technology promise.
"At Lighting Science Group, we continue to push the innovation and performance envelope so our customers benefit from long-lasting, high output and environmentally responsible LED lighting products that make economic sense—welcome to the light ages," added Haworth.
For more information about Lighting Science Group's LED lighting solutions, visit www.lsgc.com or drop by booth # 215 at LIGHTFAIR International.
About Lighting Science Group
Lighting Science Group Corporation (OTCBB: LSCG) designs, develops, manufactures and markets LED lighting solutions that are environmentally friendlier and more energy efficient than traditional lighting products. Lighting Science Group offers retrofit LED lamps in form factors that match those of traditional lamps or bulbs and LED luminaires designed for a range of applications including public and private infrastructure for both indoor and outdoor use. Lighting Science Group's Advanced Projects Group business unit designs, develops and manufactures custom LED lighting solutions for architectural and artistic projects. Lighting Science Group is headquartered in Satellite Beach, Florida; the Company's European operations are based in Middelburg, The Netherlands; and the Company has a sales office in Sydney, Australia. Lighting Science Group employs approximately 1000 workers building lighting products from domestic and imported parts. Lighting Science Group is a Pegasus Capital Advisors portfolio company. More information about Lighting Science Group is available at www.lsgc.com.
Contact
Andy Beck 202-288-6862
E-mail:abeck@altiomedia.com
Web Site:www.lsgc.com