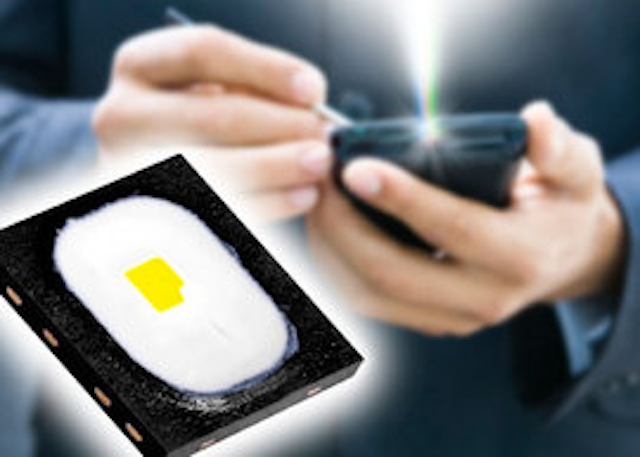 Date Announced: 30 May 2012
New green LED from Osram Opto Semiconductors doubles system brightness for embedded projection
An integrated miniature projector that can display images on a much larger surface than existing displays is the next giant leap for smart phones and cameras. This is known as embedded projection and uses LEDs as the light source. The greatest challenge so far for lighting technology has been the limited efficiency of the green light emitting diodes. This is because high brightness is essential if the projected image will be seen with ambient light. The Osram Ostar Projection Cube from Osram Opto Semiconductors is the perfect solution.
Efficient LEDs for red and blue light have been available for some time, but LEDs that produce green light with acceptable luminance were not available. The new Osram Ostar Projection Cube has now filled this important gap. At 110 lumens per watt (lm/W), it is much more efficient than all other previously available green LEDs in the embedded projection sector.
For the first time, the Osram Ostar Projection Cube enables sufficient output to be achieved in embedded projectors. "The new LED almost doubles the brightness in smart phone applications, so embedded projectors with a system brightness of up to 25 lumens are possible," said Wolfgang Schnabel, Marketing Manager, Projection, at Osram Opto Semiconductors. This means that the image is clearly visible even without dimming and ambient lighting and, thanks to the efficiency of LED technology, the projector can also be used in mobile applications with limited battery capacity.
Lots of light in a small space
The new green LED is available in two versions – with a 1 mm or with a 0.75 mm edge-length chip, providing a solution for all standard imager formats in mobile applications. They produce 260 lumens at 700 mA and 2.3 W or 130 lumens at 350 mA and 1.2 W, respectively.
Such high luminance from a small surface area is made possible with the aid of special encapsulation. This sharply defines the light surface so that the light is emitted without package reflections. With a footprint of 3.8 x 4.1 mm² and a height of only 0.6 mm, the new LED enables extremely low-profile projection engines to be designed – ideal for modern smart phones and cameras. The Ostar Projection Cube does not have a glass cover, which means that external optics can be placed very close to it resulting in maximum efficiency.
Francis Nguyen from Osram Opto Semiconductors will present this new LED at the Projection Summit 2012 in Las Vegas during his talk on the "Evolution of LEDs used in Pico Projectors" (June 11, 2012).
Technical data:
Dimensions 3.8 x 4.1 x 0.6 mm
Chip size Version A: 1x1 mm
Version B: 0.75x0.75 mm
System brightness Up to 25 lm
Rth (thermal resistance) Typically 6 K/W
Power draw: 2.3 W (A) or 1.2 W (B)
Luminous efficacy 110 lm/W
Lifetime More than 20,000 hours
Picture: Osram
The new Osram Ostar Projection Cube LED for embedded projection enables brilliant colors to be displayed from a smartphone.
http://www.osram-os.com/pr-OSTAR-Projection-Cube
ABOUT OSRAM OPTO SEMICONDUCTORS
OSRAM AG, a wholly owned subsidiary of Siemens, is one of the two leading lighting manufacturers in the world. Its subsidiary, OSRAM Opto Semiconductors GmbH in Regensburg (Germany), offers its customers solutions based on semiconductor technology for lighting, sensor and visualization applications. Osram Opto Semiconductors has production sites in Regensburg (Germany) and Penang (Malaysia). Its headquarters for North America is in Sunnyvale (USA). Its headquarters for the Asia region is in Hong Kong. Osram Opto Semiconductors also has sales offices throughout the world. For more information, go to www.osram-os.com.
Contact
Kate Cleveland Tel. 248-684-1476 Fax 248-596-0395 Osram Opto Semiconductors Tel. 866-993-5211
E-mail:kate.cleveland@osram-os.com
Web Site:www.osram-os.com