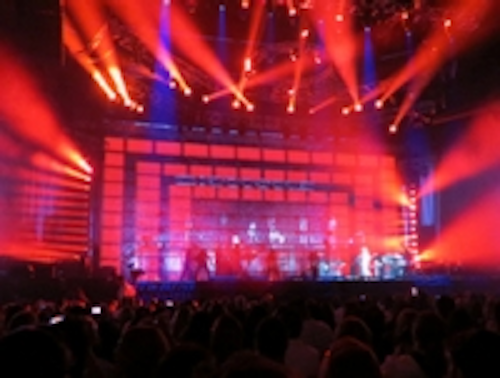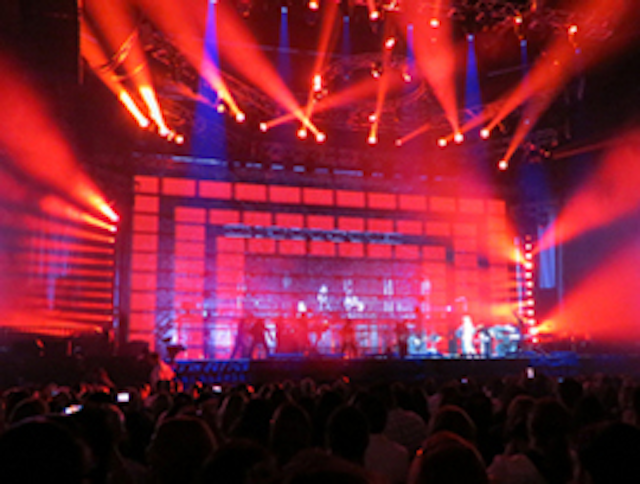 Date Announced: 21 May 2012
San Juan, Puerto Rico—For a spectacular three-day performance and hundreds of looks, Lighting Designer Eduardo "Wady" Rodriguez chose 80-plus CHAUVET® Professional fixtures as part of the concert rig of Puerto Rican pop-rock singer Ednita Nazario. Musique Xpress lighting company of Puerto Rico provided the lights.
"I addressed each element of the show separately, but also looked at the overall picture, looking for harmony," Rodriguez said. "The combination of music and lights reflected Ednita's personality—her fragility, passion and great talent."
Rodriguez lit a textured wall at the back of the stage with six COLORado™ Ridge IP high-powered luminaires, placed equidistantly while projecting intense red, blue, purple or green hues. The wall was a static element in the design, drenched in color for most of the looks and serving as a base for a complex rig, featuring large video walls, numerous wash lights and sharp spot fixtures.
For a 3D effect, Rodriguez designed the stage in layers. Behind the video panels he built a six-by-four grid of Q-Wash™ 560Z-LED wash lights—24 in total. These powerful lights provided depth and flooded the stage in color when the video wall was not lit.
Flanking the video walls were 24 Q-Wash™ 260-LED wash lights, placed vertically, 12 on each side, shooting beams of bright light toward the performers on stage. Nineteen COLORado™ Batten 72 Tour linear wash lights added more dimension to the show. Seven of these versatile fixtures lit the artists from the front of the stage, while the other 12 were arranged in pairs, vertically, six on each side of the stage, at the far left and far right.
Eight COLORado™ 3p IP wash banks warmed the truss of a catwalk, built in the middle of the stage behind the video wall and grid wall, for even greater depth.
Contact

800.762.1084
E-mail:sales@chauvetlighting.com
Web Site:www.chauvetpro.com