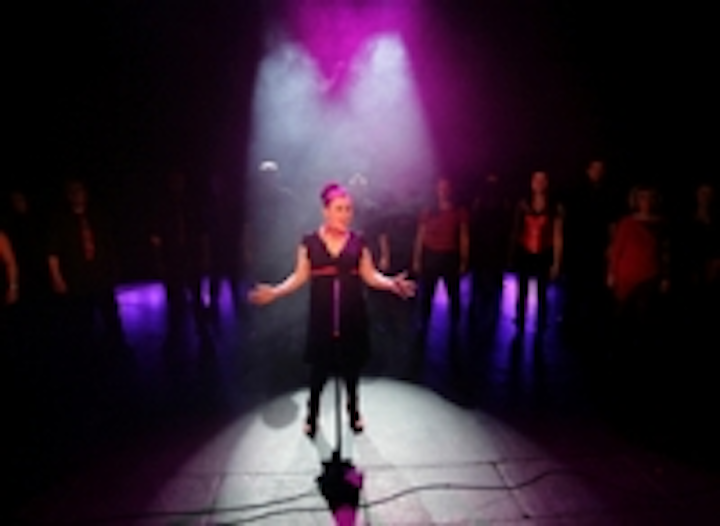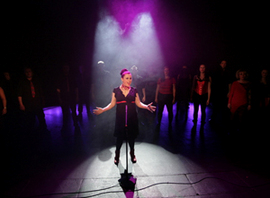 Date Announced: 02 May 2012
SUSSEX, U.K. - Ariel Company Theatre's production of Musicality4 made its debut on the stage of the Chequer Mead Theatre using eight Q-Spot™ 560-LED moving heads and a Hurricane™ Haze 2D haze machine.
Chequer Mead Theatre, a 320-seat performance venue with a state-of-the-art lighting and sound system, frequently hosts Ariel Company Theatre's productions. Joshua Attwood, lighting designer for Musicality4, placed two Q-Spot™ 560-LED fixtures at the front of the house, two on the balcony bars and four on the upstage bar to highlight performers, provide backlighting and project effects during the production. The addition of Hurricane™ Haze 2D enhanced the lighting effects by highlighting beams.
Musicality4 is a musical review of the latest West End and Broadway musicals performed by a cast of 28 adult and 28 junior actors. Neil Hopson, artistic and drama academy director at Ariel Company Theatre, envisioned a musical review of modern shows with an up-do-date image and feel.
"I wanted a production with a rock 'n' roll light show that still allowed the nuance of a musical show," Hopson said. "I needed lights with movement, effects and the ability to add bright backlighting to the soloists. The fixtures we chose are lightweight, bright and have very good effects for musical productions."
Though the installation was essentially flawless, the team encountered one small problem - not enough lights.
"We didn't have enough Q-Spot™ moving heads and could have used more," Hopson said. "Hurricane™ Haze 2D is a brilliant machine that we use in performance venues both large and small. It is economical and very reliable, but the same can be said for Q-Spot™ 560-LED. Both fixtures were absolutely spot on for our needs."
Contact
www.chauvetlighting.com sales@chauvetlighting.com 800.762.1084
E-mail:sales@chauvetlighting.com
Web Site:www.chauvetpro.com