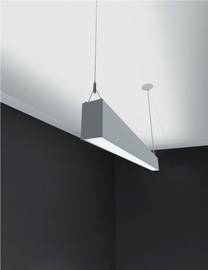 Date Announced: 07 May 2012
Lumenpulse Inc. today announced the release and availability of Lumenline™, a unique system of indoor linear LED luminaires introducing the benefits of high-quality LED lighting to commercial and institutional environments seeking lower energy and maintenance costs.
Lumenline marks a significant breakthrough for LED technology, challenging the performance of traditional T5 HO fluorescent systems using a similarly slim 2-inch profile. Lumenline delivers 68 lumens per watt, offers outstanding photometric distribution, has excellent color rendering (85 CRI) and lasts for 100,000 hours (four times longer than fluorescent), making it a durable, high quality energy saver for offices and classrooms.
"Converting to LED has never been this easy," said François-Xavier Souvay, Founder, President and CEO of Lumenpulse. "Lumenline is a complete family toolbox in a slim, clean format that offers flexibility for general lighting applications. It is simple to specify, easy to integrate and offers myriad options."
Lumenline is designed to be highly configurable, adapting to a wide variety of architectural and commercial building interiors. The system is available in Pendant, Surface Mount and Recessed formats, in single units of 1, 2, 3, 4, 5, 6, 7 or 8 foot or continuous runs, and can be configured with various color temperatures, accessories and optics enabling both indirect and/or direct lighting.
The system has a slim 2-inch profile and a minimal product presence that blends easily into architecture without causing glare or discomfort. Lumenline also integrates with common commercial dimming and control standards such as Triac, ELV, 0-10V, DALI or DMX.
Furthermore, Lumenline is compatible with Lumentalk™ – a radical and award-winning new technology released by Lumenpulse last week, that enables digital control and monitoring over existing electrical wiring, a completely unique feature that eliminates the need for costly data wiring.
More information about the Lumenline system is available on the Lumenpulse website at www.lumenpulse.com/products.
About Lumenpulse Inc.
Founded in 2006, Lumenpulse develops and manufactures high performance, sustainable architectural LED-based fixtures and solutions for commercial, institutional, and urban environments. Attention to detail in mechanical, optical and fixture design has positioned Lumenpulse as a leader in the global LED lighting marketplace for indoor and outdoor uses. In addition to comprehensive product family offerings, Lumenpulse also specializes in the design, manufacturing and commissioning of large scale, customized, LED lighting solutions worldwide.
Lumenline features
Slim, 2-inch form factor; High performance: 68 delivered lumens per watt; CRI: 85+; 100,000-hour lumen maintenance; Available in multiple lengths, mounting options and color temperatures; Minimal product presence: No visible LED dots or socket shadows; Multiple control options: Triac, ELV, 0-10V, DALI, or DMX; Controllable over power line: Using Lumentalk™ – no rewiring required.
For more information, please visit www.lumenpulse.com.
Contact
Jason Broadhurst Lumenpulse Phone: 1-877-937-3003
E-mail:jbroadhurst@lumenpulse.com