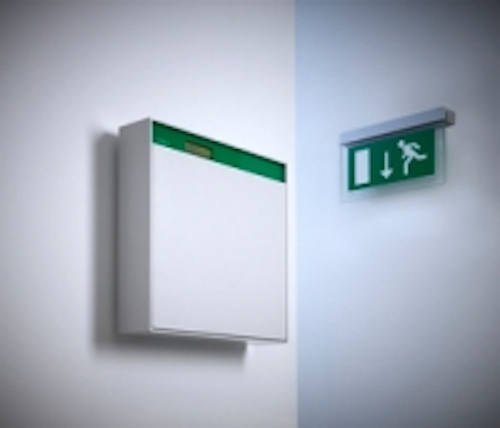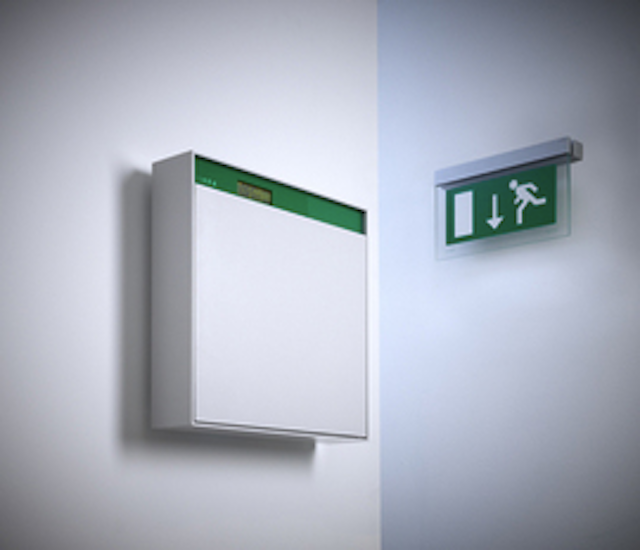 Date Announced: 29 May 2012
ETAP has developed a new central battery system for LED emergency lighting. As the name suggests, EBS Compact is a space-saving unit, which can even be easily installed in an office space or corridor. It is nonetheless a highly versatile system.
EBS Compact owes its simplicity to two basic assumptions. One: the system is aimed at energy-efficient LED emergency lighting. Two: it is designed to supply emergency lighting within a single fire compartment. These choices allowed the development of a highly compact and lightweight unit without the need for expensive and complex fire-resistant wiring. The unit is so compact that it can be easily suspended from a wall. ETAP designers have therefore produced a discreet design that blends in with any décor. EBS Compact can obviously be installed in a separate technical space, but also, and just as easily in office spaces or corridors, clearly visible and easily accessible.
Easy to plan, order and install
Since EBS Compact works per fire compartment, it is simple to plan and also highly suitable for building extensions. EBS Compact is full-option: no pre-configuration is required. In addition, the circuits work with FLEX technology, which allow permanent and non-permanent luminaires to be connected to a single circuit, which simplifies installation and saves on wiring. EBS Compact is also easy to install: one technician can do the job and commissioning by ETAP is not required.
Centralised monitoring of individual luminaires
EBS Compact simplifies monitoring. We measure the effective light output of every connected luminaire and send it to the control unit in the system. EBS Compact immediately reports any faults. Battery inspection and maintenance also require less time, since the unit with built-in battery set is always within easy reach. EBS Compact can furthermore also be connected to ETAP Safety Manager (ESM), the central monitoring and control system for emergency lighting. For example, all units can be monitored by computer.
Contact
ETAP nv Gert De Vos, tel. ++32 03 310 01 31
E-mail:press@etaplighting.com
Web Site:www.etaplighting.com