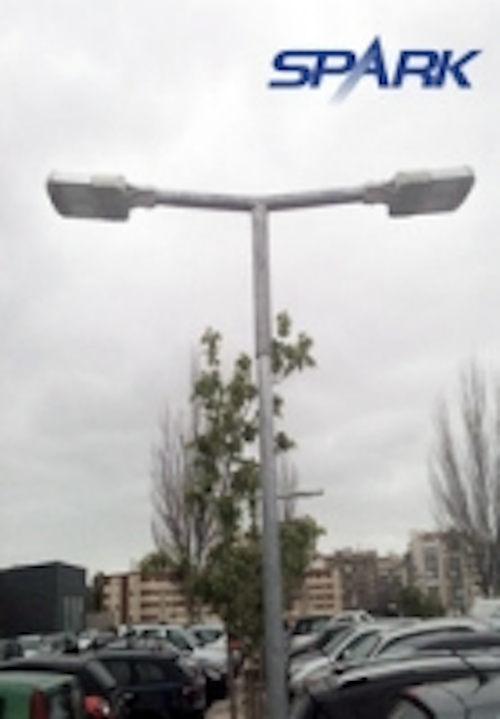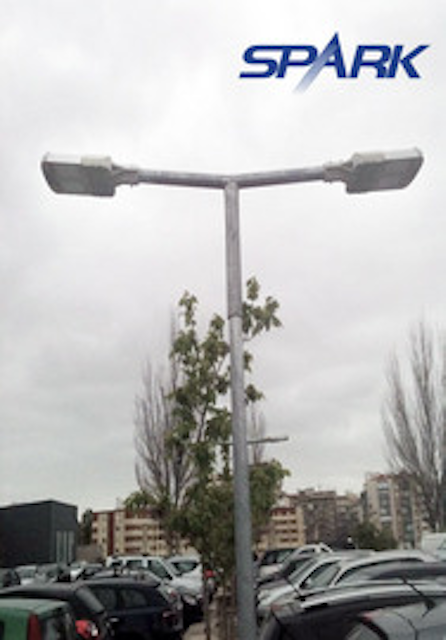 Date Announced: 15 May 2012
The parking lighting project at Campus in Lisbon, Portugal, has been completed and put into use recently. The SPARK LED street light (SPL-48) with LED module design have been widely used in this project. The single pole has been installed with double luminaires, showing simple style, and it is also consistent with the fresh and bright campus environment.
When night falls, all the street lights installed in the campus are lighted up, and the glowing light bright up the night. When in the harsh conditions like heavy rain, foggy, etc. As always, SPARK will offer the advanced products with high quality white color to meet various needs in lighting and provide the best visual enjoyment to passers-by and vehicle. Our street lights not only have been decorated the campus night scene in Lisbon beautifully, but also our green and environment-protective light have provided the high reliable lighting guarantee for our citizens to move around.
In the safety of the power supply, Spark LED street light adopt the isolated power supply with wide range voltage, it is over-voltage circuit designed, which could ensure the stability, long lifespan and reliability of the system to avoid the safety loophole from the poor power quality difference. The IP rate protection levels for our street lights reach IP66, higher than the requirements of the national mandatory standard for dustproof and waterproof. Our luminaires are in good sealing with humid and warm resistance, which have been improved its strong environment adaptiveness in the complicated and bad working environment.
For the optics, our street lights adopt high transparent material, the test have been taken again and again through the advanced optical simulation software. And we designed an advanced second-designed optic lens, which ensures the light transmittance more than 80% at an effective range, and the total light transmittance more than 91%. This lens produce a very good uniformity, a rectangular beam, very clear edge, no harm glare and radiation, also no pollution at all. To ensure the enough luminance on the road, luminousness and energy consumption of our street light will down to the minimum, and keeping comfortable to our eyes, also no harm to our body.
The luminaires get very well luminous effect, and especially our customer likes the unique optic design very much. Portugal is appropriate for solar energy system; our customer says that they will purchase a number of solar streetlight in the near future. It can give full play to use local summer sunshine, outstanding energy-saving, conservation resources, beautify the environment. They hope to adopt SPARK streetlight in other road of the same university, then SPARK will light up the whole university.
Contact
Keziah Song General Manager Tel: (86 755) 8390 4366 Fax: (86 755) 8390 4766
E-mail:sales@spark-oe.com
Web Site:www.spark-oe.com