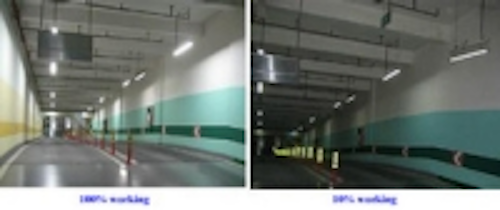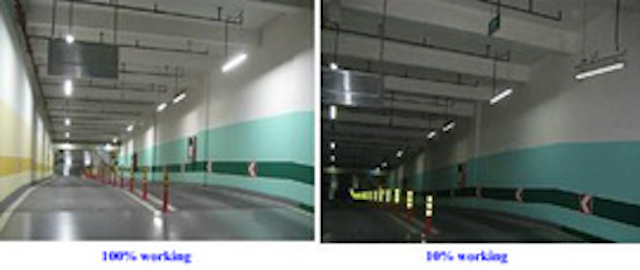 Date Announced: 15 May 2012
To help more energy saving in underground parking, factories, hospitals and other all-day or long time continuous lighting areas. We released our Smart Star Series Microwave Sensor LED T8 Tube Lights.
How does it work?
This is an improvement for LED lighting by our smart design.
Take our HTI-SST8-1200-18W installed in a car garage as an example, when you are driving a car closer and closer (1~9 meters, adjustable), the microwave sensor will receive the signal and transmit to let the light fully work at 18W and out-put illumination equals to 45W fluorescent tube. After the car parked ready and you left
(2~60 seconds, adjustable), our smart tube will automatically turn down at 2W (or other Watt level, adjustable) for saving energy, and this level of illumination ensures for security monitoring.
Product Features & Benefits
1. Applied with top grade 3014 LEDs.
2. Reliable and high efficiency driver by our own R&D.
3. Smart design, automatically work for saving energy.
4. Save 90% or more energy than traditional lighting.
5. Aluminium housing + PC Cover (Clear or Milky).
6. Long lifespan > 50,000 hours, up to 3 years warranty.
7. No IR or UV radiation.
8. No RF interference.
9. No flicker, stable constant light.
10. No lead, no mercury, eco-friendly.
11. Conform to CE, ROHS, FCC standards.
12. Beam Angle: 120 degrees.
Product Specifications:
Input Voltage: AC 85~265 V
Frequency Range: 50~60 HZ
Color: Warm White, Natural White, Pure White
CCT: 2700~6500K
Luminous Efficiency: 85~100 Lm/W
Lumen Depreciation: < 10% within 20,000 hours
PF: > 0.9
CRI: > 75 Ra
Working Temperature: -20℃~45℃
Base Type: G13
Applications:
1. Indoor Parking lots.
2. School.
3. Library.
4. Factory Canteen.
5. Hospital.
6. Office.
7. Airport.
For any enquiry, please feel free to contact.
Contact
Jack Manager, Global Business Dept. Shenzhen Hitec Lighting Co., Ltd Mob: +86-153 0755 7255 T/F : +86-755 2314 8006
E-mail:info@hti-global.com
Web Site:www.hti-global.com