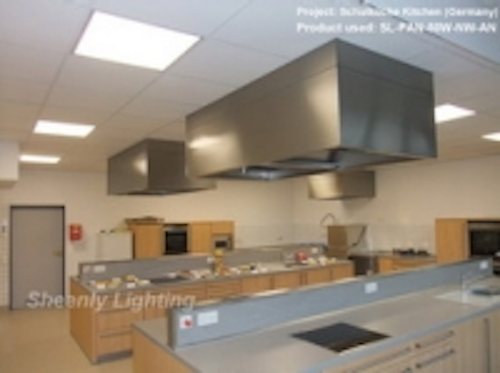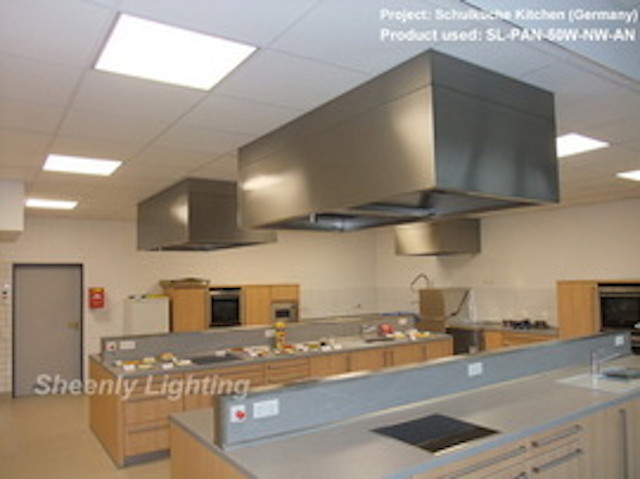 Date Announced: 31 May 2012
The children in a German school may have a brighter and happier atmosphere in their kitchen, due to the replacement of traditional fluorescent lamps by ultra slim LED panel lights from Sheenly Lighting. Actually, the school in Germany, after considering several possible lighting solutions of replacing their traditional lighting facilities, ultimately chose Sheenly Lighting as their solution provider, which is renowned for their ultra slim LED panel lights.
As far as the kitchen's lighting solution is concerned, there are many aspects should be taken into consideration since the lighting products are anticipated to not only light up the whole kitchen with high lighting efficacy, but also bring some warmth and happiness that the children may appreciate. Meanwhile, the overall circumstances of being simple and comfortable should not be damaged after installing these LED products. Sheenly Lighting's ultra slim panel lights, integrated all these features, become the perfect choice for this demanding lighting solution.
These products are Sheenly 600*600 mm LED panel lights, which adopts qualified super bright LED as light source. The anodized aluminum frame is stylish and fashionable with everlasting color. It is powered by low voltage constant current driver, which is safe, energy saving and long life. Moreover, these LED Panel lights as our most popular products have very competitive price based on outstanding quality:
1.High light efficacy up to 85 lm/w of whole light system, best light efficacy of LED panel light in the market.
2.Ultra slim design
3.Different frame designs and colors are available
4.Easy and various installation styles
5.Dimmable compatible with Dali
6.Lighting sensors and Motion sensors are optional
7.Emergency battery pack last for 3 hours is available
8.Customized size accepted
9.5 Years guarantee for the panel
10.3 Years guarantee for the driver
Contact
Dowson Zhang Tel: +86-21-6411-3138 Fax: +86-21-6411-3138
E-mail:dowson.zhang@sheenly.com
Web Site:www.sheenly.com